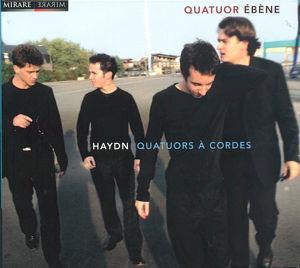 THE STRAD RECOMMENDS
The Strad Issue: January 2006
Musicians: Ebène Quartet
Composer: Haydn
The members of the Ebène Quartet win their spurs in this superlative debut classical disc. Their performances, recorded live, demonstrate a natural affinity with three quartets from different periods of Haydn's career, and their bold and decisive characterisation confirms them as interpreters of rare understanding and communicative flair.
Using modern instruments and bows, they thoroughly appreciate how flexibility of performance practice can bring 18th-century music to life. They play with a pleasing spontaneity, adding extempore ornamentation where appropriate and giving spaciousness and freedom to Haydn's thematic concentration in the first movement of op.64 no.5, the Andante of op.33 no.1 and the trio of op.76 no.1. They also emphasise strongly the composer's dynamic contrasts, particularly in the finale of op.64 no.5 and the minuet of op.76 no.1.
These players' fast movements seem more urgent than most. They capture the wit and sheer fun that inform Haydn's finales and dispatch them with a thrilling devil-may-care élan and virtuosity. Just sample the sparkling finale of op.64 no.5 and hear how they scamper in and out of its fugal middle section with breathtaking athleticism. Elsewhere they bring an ideal warmth and lyricism to the slow movement of the same work, demonstrate sensitivity to harmonic colour in the Adagio of op.76 no.1 and excel in their overall appreciation of texture, sonority and balance.
These inventive, high-voltage accounts are well caught by the engineers. The very occasional moment of impure intonation and marginally imprecise ensemble is a small price to pay for performances of such character, colour and spontaneity.
ROBIN STOWELL