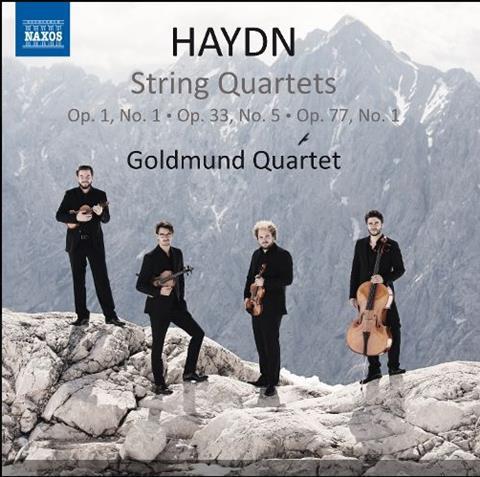 The Strad Issue: December 2016
Description: Bavarian quartet makes a notable debut with a Haydn disc
Musicians: Goldmund Quartet
Composer: Haydn
Catalogue number: NAXOS 8.573701
An acute sense of timing distinguishes both music and interpretation in this promising recorded debut from the Munich-based Goldmund Quartet. These performances show how the players understand that silences and pauses always mean something in Haydn, as a means of disconcertion or of gathering thought.
The quartet digs deep in the remarkable slow movement of op.1 no.1, giving apt space to Haydn's extraordinary anticipation of the 'Heiliger Dankgesang' in Beethoven's op.132, where their tight, vibrato-light presentation is shown to best advantage, even if the recorded balance unduly favours the cello.
The 'how do you do' finale of op.33 no.5 is a little po-faced, and the Adagio runs out of steam towards its deadpan conclusion, owing to some dutifully short-breathed phrasing. Ornamentation and minuets in general are not the last word in settled elegance, especially from the leader.
The booklet prints a conversation in which the quartet members rightly emphasise the humour of this music, which might come over more readily in concert. They bring a polished seriousness of purpose to op.77 no.1; in not only a grave and dignified Adagio but also in a trio bursting at the seams with suppressed fury (by this time it was Haydn who was learning from Beethoven), plus the off-beat, interrupted dialogue of the finale.
Peter Quantrill