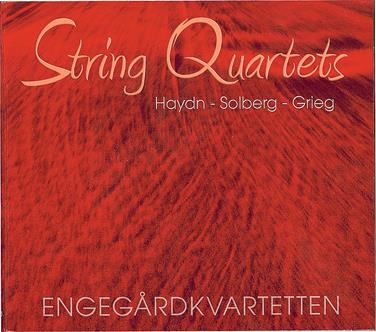 The Strad Issue: January 2008
Musicians: EngegŠrd Quartet
Composer: Haydn, Leif Solberg, Grieg
Recorded in audiophile clarity by 2L's founder Morten Lindberg and an assistant, here is a new ensemble founded in 2006 by three Norwegians and the British violist Juliet Jopling. The playing is refreshing, often exhilarating, and some tiny rough edges – mostly relating to intonation – must be set against the spontaneity of it all.
It is always a pleasure to hear Haydn's great D major Quartet, even though at each hearing the first two notes of the Largo, as played by these performers, lead me to expect a broader tempo than I actually get. This fault is corrected at later appearances of the theme and in general this is a fine reading, with a real presto finale. Each of the instruments can be clearly pinpointed on the soundstage.
Leif Solberg (b.1914) wrote his quartet in 1945 for the Hindar Quartet. Receiving its first recording here, it comes across as a charming, very traditional piece in four short movements, showing the noticeable influence of Norwegian folk music. I cannot imagine that even the Hindar played it better.
The players attack the Grieg G minor Quartet as if it belongs to them, holding its many contrasting episodes together by sheer force of willpower. I have heard at least two performances like this from Scandinavian groups in the concert hall, but never before in the studio. Some of the playing is breathtaking and the cumulative effect would be exhausting if it were not so exciting. Over the top? Perhaps – but I am already looking forward to hearing it again.
TULLY POTTER