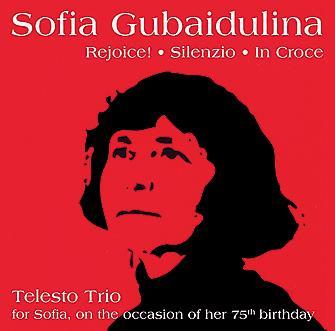 The Strad Issue: January 2007
Musicians: Telesto Trio
Composer: Gubaidulina
There's no sense of the miniature about these works, however exiguous their textures. More than simple faith, a fine ear and sense of timing lends them an imposing aspect even when spun from a single note. The titles are not so much misleading as metaphorical; the half-hour duo Rejoice! is an ethereal celebration of harmonics; Silenzio is neither silent nor static but deeply still, full of dialogue in the strings while the accordion bleeds in and out of focus. In Croce takes the ecstatic, fluttering lament of Silenzio's finale into still more otherworldly contrasts between musical earth and heaven, while never losing the faith in direct, melodic expression that deserted Schnittke and others decades ago.
Gubaidulina is, we are told, the raison d'etre for the Telesto Trio, as well it might be given how little music employs the combination of violin, cello and bayan (accordion). Fidelity to the notes and dedication to the cause can be taken as read, and the recording is decent if slightly antiseptic. The microtones and fragile resolutions, Ligeti and Shostakovich, uncertainty and faith, are all present and correct. What I miss is a sense of the passionate abandon that Gubaidulina demands as much as Tchaikovsky. Such abandon knits the contrasts together with vital connective tissue, evident on recordings of Rejoice! by Gidon Kremer and Yo-Yo Ma (Sony) and especially on a Live Classics release of the world premiere given by the dedicatees, Oleg Kagan and Natalia Gutman. Silenzio and In Croce are also well-served on Naxos by Maria Kliegel and the accordionist Elsbeth Moser, both of them intimates of the composer.
Peter Quantrill