Young Viennese violinist has been loaned 1752 Milan-period instrument by National Bank of Austria collection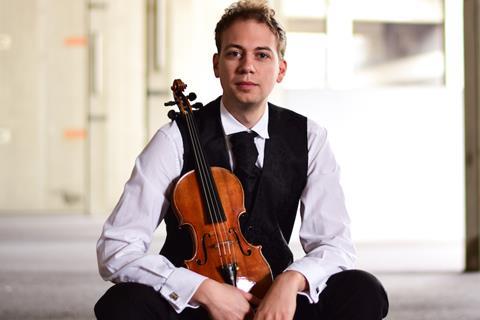 Thirty-year-old Austrian violinist Daniel Auner is now playing the 1752 'D'Elia' Guadagnini, on loan from the Oesterreichische Nationalbank instrument collection. The violin, which had been in storage for approximately three years, was purchased from a private collector last year for a reported €1.3m. It had previously been played by Elisabeth Kropfitsch.
Auner was chosen by an artistic committee of Vienna Philharmonic Orchestra musicians and violin professors at the University of Music and Performing Arts. The open-ended loan is subject only to the condition that the recipient maintains an appropriate concert and recording career.
'It took quite some time to open it up,' Auner told The Strad, explaining that the months of inactivity had not benefitted the violin.
'A good trick in that case is to use a viola bow and play every evening after practising very loud and strong dissonances, for example open d string with a C sharp on the G string together. You can feel the violin starting to swing, to vibrate, each day a bit more.
'These violins need to be played!' he said.
Auner was born in Vienna in 1987, the son of a Russian pianist and an Austrian cellist. He has studied in Vienna, Saltzburg and Graz with Christian Altenburger, Igor Ozim and Boris Kuschnir. His first CD, of Mozart Sonatas with British pianist Robin Green, was a 'Strad Recommends' recording in the December 2014 issue.