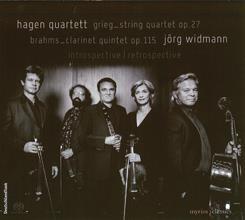 The Strad Issue: January 2012
Description: A novel coupling that attempts to throw new light on two Romantic classics
Musicians: Hagen Quartet, Jörg Widmann (clarinet)
Composer: Grieg & Brahms
This CD carries a subtitle: 'Introspective/retrospective'. The introspection is credited to Grieg's Quartet, on the grounds that he wrote it during a personal crisis that it must therefore reflect. It is certainly presented by the Hagen Quartet as a work of racked and conflicting emotion. The long first movement, which is discursive and sectional and can easily meander, opens with a G minor chord of shocking, tragic force. Thereafter it is performed with gripping narrative tension, its melodic lines stark and chiselled; the moments of quiet beauty have a pathetic quality amid the angry flow. The angst lets up periodically through the four movements: the Romanza has a nice, languid lilt, the fugue in the Intermezzo is oddly jaunty, and there are glimpses of Italian sunlight in the Nordic saltarello finale.
There is much light and shade too in Brahms's Clarinet Quintet – the 'retrospective' half of the CD. The Hagen players with German clarinettist Jörg Widmann are sensitive to every nuance and subtle change in the prevailing character of the music in a way that can be exquisite but also a tad precious. The opening takes a while to settle, presumably because it has something of a fantasia about it, and thereafter the players take a rather free approach to tempos. There are many wonderful things, but so much care is given to everything that the wonders tend to separate out. The recorded sound and balance are excellent.



TIM HOMFRAY