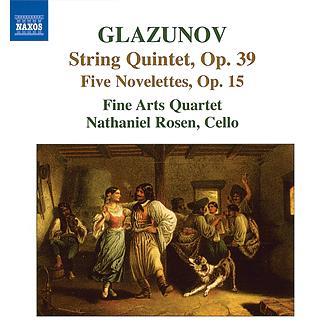 The Strad Issue: January 2007
Musicians: Fine Arts Quartet, Nathaniel Rosen (cello)
Composer: Glazunov
Glazunov's Violin Concerto in A minor remains one of his most popular pieces. But the two works on this disc prove how capable a chamber music composer he also was. The Novelettes, a suite of five movements for string quartet dating from 1882 when Glazunov was 16 (his First Symphony was premiered the same year), sparkle with ideas, revealing an original mind already at work.
They launch with Hispanic flair ('Alla spagnuola'), graduating via a folk-like Oriental tune to a beautiful sad melody ('in modo antico') suggesting Glazunov's admiration for Tchaikovsky, not least the latter's Second Quartet. A nicely relaxing waltz takes over, before a sprightly, rhythmically alive Hungarian finale. Each movement underlines just how adept the Fine Arts players are at contrasting moods, both between and within sections. Equally gratifying is Glazunov's skill at spreading the good things around his players: all four have plenty to do, and Yuri Gandelsman makes the most of the plums the composer awards to the viola.
The Quintet (1891) is a work of real substance and weight, cogently argued and ingenious in its effects. Its first movement is played with exciting passion and intensity, and the bustling, folksy finale makes a splendid conclusion following the warmly delivered Andante. But the masterpiece is the Scherzo, which features some really effective pizzicato by other instruments around a serene legato viola, a beautiful legato contrast from cellist Wolfgang Laufer, and then a surprising, imaginative cello switch to forceful pizzicato. It is all profoundly rewarding, although I do find the recorded sound in places unduly edgy.
Roderic Dunnett