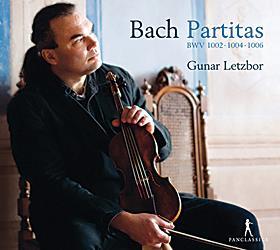 The Strad Issue: January 2011
Description: Vivacious performances of cosmopolitan late 17th-century partitas
Musicians: Ars Antiqua Austria/Gunar Letzbor (violin)
Composer: Fux
Gunar Letzbor's ensemble is a persuasive advocate of Fux's partitas, the movements of which range from dances to complete ouvertures and combine the expressive and the unpredictable with flowing passages of finely wrought counterpoint. A cosmopolitan mix of national styles is represented. Letzbor takes the violin lead in most of the works included here, with Ilia Korol assuming that role in three of them.
Both violinists play with flair, individuality and technical assurance, combining stylish discipline with commendable freedom of expression. Listeners will be captivated by their vivacious rhythms, light textures, and neatness of articulation, as in the breathless Introduzione of the Partita in B minor K319. They are faithful in replicating national styles – just sample the pair of French Menuets in K321 and the dances in K322 – and they are admirably supported by a colourful continuo instrumentarium. The cast even extends to percussionists for K331, which includes imitations of Turkish band music in three of its movements.
Other highlights include the eventual two-part fugue in the opening Andante of K320, the two-part, canonic Intrada of K321, the extra-musically inspired movements of K323, headed respectively 'Les cambattans' and 'Les vainqueurs', and the rumbustious finale of E64. The recorded sound is excellent, but the booklet notes include some faulty tracking details.


ROBIN STOWELL