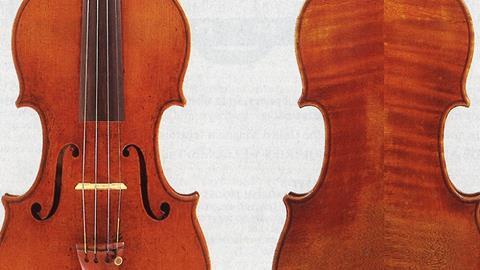 This illustration of the 1719 'Zahn' violin by Antonio Stradivari was published in The Strad, September 1985. The following text is extracted from the article accompanying the photographs:
The violin shown on this month's front cover is the 'Zahn' Stradivarius made in 1719. The instrument is an outstanding example of Stradivari's middle golden period, and is of the grand pattern, measuring 14 1/8 inches in body length. There is a marked similarity of model to the Stradivarius [formerly] owned by Itzhak Perlman, the 'General Kyd'.
The 'Zahn' Stradivarius has passed through the hands of several prominent collectors, and has recently been bought by an American collector (who prefers to remain anonymous). Bein & Fushi, responsible for this recent sale, know of Salvatore Accardo to have been the only important violinist owner of the violin.
The amount of original varnish is so full that at first sight the instrument could be taken for a Vuillaume. The table is made from two pieces of spruce with a fine grain. The two-piece back is of handsomely figured, quarter-cut maple with a broad curl descending from the centre joint. The ribs and original scroll are of similar maple. The varnish is a beautiful golden-red colour. The measurements are as follows: upper bouts, 16.8 cm, centre bouts, 11.4 cm, lower bouts, 20.8 cm, length of back, 35.9 cm.