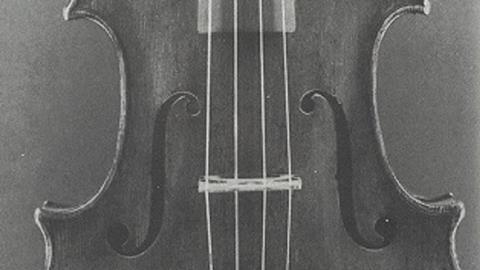 This illustration of the 1790 violin by Benjamin Banks was published in The Strad, October 1985. The following text is extracted from the article accompanying the photographs:
Benjamin Banks is one of the major figures of British violin making. This particularly interesting and well-preserved example of his work, dated 1790, is a late product of his workshop in Catherine Street, Salisbury, some six years after it had been destroyed by fire on 17 January 1784. By that date he had one or both of his sons, James and Henry, and at least another worker, by the name of Wheeler, assisting him, but this violin, made when he was 63, still shows the force of his character down to the smallest detail.
Banks himself is popularly known as the English Amati, and the instrument illustrated is well described by the same epithet. It shares with Nicolo the superb precision of work, yet lacks the Italian voluptuousness, which is replaced by a certain English reserve, a stiff upper lip rendered in maple, pine and deep red varnish.
The violin is in almost new condition, with its original neck and fingerboard, and quite possibly its original boxwood pegs too. The varnish layer is virtually complete and the interior work undisturbed, making the style of work easier to read.