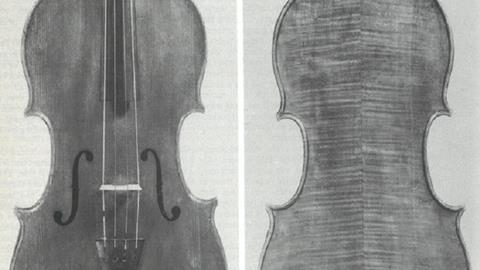 This illustration of a 1664 viola by Andrea Guarneri was published in The Strad, June 1985. The following text is extracted from the article accompanying the photographs:
This magnificent tenor viola, 482 mm, by Andrea Guarneri of Cremona was sold in the 1940s by the Counts Canal family of Venice, having probably been in their safe keeping since it was made.
By virtue of its originality, its state of preservation and its sheer physical size, it outclasses anything in this [the National Music Museum or 'NMM' in South Dakota] or any other collection with the single possible exception of the Medici Strad viola in Florence, but one would never dare to utter such a profanity in its presence.
It has a rich and fairly thickly applied golden brown varnish, which though heavily cracklured has mercifully never been polished out.