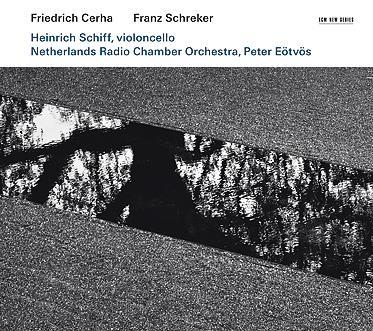 The Strad Issue: January 2007
Musicians: Heinrich Schiff (cello) Netherlands Radio Chamber Orchestra, Peter Eötvös (conductor)
Composer: Friedrich Cerha, Schreker
Vienna is central to this disc. Viennese Friedrich Cerha's Cello Concerto started life as a commission for the Wien Modern Festival in 1989, while Schreker's one-movement Chamber Symphony was written there in the midst of World War I.
Cerha's concerto is a significant addition to the cello repertoire and Schiff, its dedicatee, gives a committed and powerful performance. The work began as a single movement, now the central one of three; the intricate outer movements were added in 1996 for the Berlin Festival. Cerha, a musical descendent of Schoenberg, best known for his reconstruction of Act 3 of Berg's Lulu, explores all sorts of timbres in the piece – scurrying sul ponticello like a swarm of insects, tremolo lines meandering upwards and outwards like shooting stars, slapping wood blocks, African drums – but it feels totally gimmick free, so closely are they woven into the whole.
After the first movement I felt I'd lived through a whole concerto's worth of contrast, including a lyrical two-cello passage that called to mind the slow movement of the Schumann concerto. The middle movement is significantly different in mood, opening with a tranquil, undulating accompaniment, over which Schiff's cello soars serenely. He emerges from the orchestral texture again in the last movement, for a subdued solo cadenza, which dissipates in more scurrying strings. The ending is exquisite and unusual – tiny harmonics like raindrops, finally disappearing into nothingness off the top of the fingerboard.
Both this and Schreker's expressionistic Chamber Symphony are given top-quality performances by the Netherlands musicians, and sound quality is superb.
JANET BANKS