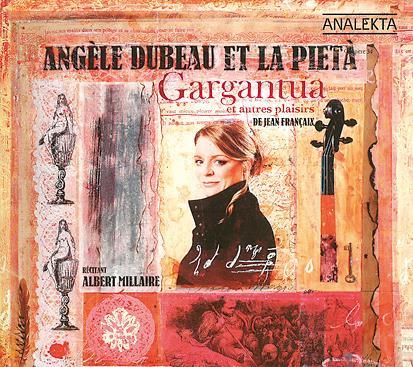 The Strad Issue: January 2009
Musicians: La PietÁ /Angèle Dubeau, Albert Millaire (reciter)
Composer: Françaix
Jean Françaix (1912–97) perpetuated the Gallic traditions of Les Six to the end of the last century with a nonchalantly deft style and delicious sense of irony. A brilliant pianist and highly prolific composer, Françaix combined the spirit of childhood with a typically French capacity for charm and joie de vivre.
Les inestimables chroniques du Grand Gargantua is a 40-minute work for reciter and strings, based on a light-hearted Rabelais story about a giant who rescues his father from the clutches of a turncoat. Composed as recently as 1971, it sounds for all the world like a gently playful product of 1920s Paris, with its knowing musical asides guaranteed to put a smile on anyone's face. Throughout, Françaix sustains an exquisite luminosity and impeccable ear for balance, which Angèle Dubeau and her gifted ensemble of musicians play with such radiant warmth and sensitivity (ideally matched by the velvety engineering) that it is impossible to imagine the work better performed. The booklet includes the full French text but only a summary in English, and it's a shame that such a lengthy work wasn't provided with a few CD index points to aid dipping into.
This issue's impeccably high performing standards are fully maintained in the shorter pieces, with some truly melt-in-the-mouth textures and heavenly phrasing in the piano-and-strings L'heure du berger. The otherwise light-hearted Sérénade B.E.A. ends with a haunting epilogue, acknowledging the fact that during work on the piece a certain Beatrice (after whom it is named) jilted the wealthy Hungarian who had commissioned the work for her as a present in the first place. A wonderful disc.



JULIAN HAYLOCK