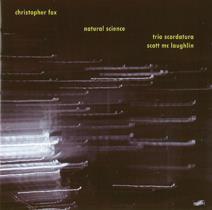 The Strad Issue: January 2012
Description: Weird and wonderful sounds for strings and electronics
Musicians: Trio Scordatura, Scott McLaughlin (electric guitar)
Composer: Fox
As its name might suggest, the Amsterdam-based Trio Scordatura specialises in music that employs unusual and often ear-tweaking tuning systems, using the startling sound combination of voice (doubling violin), viola and Midi keyboard. If that sounds forbiddingly complex, don't be put off. This rewarding disc of music by the contemporary British composer Christopher Fox (b.1955), currently professor of music at Brunel University, brings a welcome vividness and transparency to the strange, microtonal world it inhabits, with pieces that are thoroughly approachable and exceptionally well played.
BLANK, for violin, viola and keyboard, is the standout, its somewhat raucous succession of slowly changing chords, at varying degrees of being out of tune with each other, producing striking 'beating' effects. Violinist Alfrun Schmid and viola player Elisabeth Smalt are astonishingly precise in their microtonal intonation, and their thin yet insistent sounds blend with those of the keyboard to produce music that's unceasingly fascinating. Smalt's clear, transparent playing is again in evidence in für Johannes Kepler, inspired by the music of the spheres, and she brings a fractured folksiness to the broad viola melodies of Trümmermusik. In Natural Science, a setting of fragments of verse by Ian Duhig for speaker and viola, Smalt begins with a fragile, hushed sound that moves to grander gestures as the poetry becomes more shocking. The recording is close and intimate – necessary to pick out the smallest details of the playing – yet remarkably warm and clean.



David Kettle