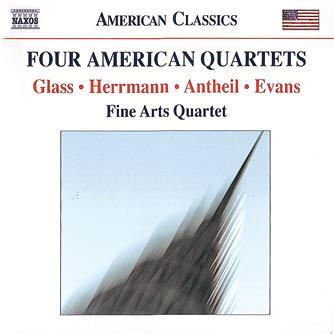 The Strad Issue: January 2008
Musicians: Fine Arts Quartet
Composer: Ralph Evans, Philip Glass, Antheil, Herrmann
Despite appearing in Naxos's American Classics series, none of these four quartets is exactly a classic, but the Fine Arts Quartet gives them full measure. With the first work they could hardly do otherwise, as the composer Ralph Evans is also the first violinist. In the notes he describes the opening idea as robust, a word which could be applied to most of the work, and to the players' performance of it. In this egalitarian and at times contrapuntal work, they are careful to keep the textures clear, and make the most of the intense slow movement and the dancing finale. In Philip Glass's Second Quartet, with its layers of busy patterns, they do well to convey a feeling of emotional involvement and progression through the frieze-like material.
George Antheil, still probably the only composer to have designed a torpedo, had got past his iconoclastic phase by 1948 when he produced his Third Quartet. There is an engaging naivety in its use of folk-like themes, with the occasional nod towards Dvo?rák's 'American' Quartet, particularly in the slow movement, and periodic shifts into darker, more astringent territory. The Fine Arts Quartet plays it with energy and open-hearted emotion, deftly negotiating the kaleidoscopic whirl of material in the last movement.
Of these four works the most rewarding is Bernard Herrmann's Echoes, a melancholy set of ten short linked movements, to which the players bring reserves of subtlety they have hardly needed elsewhere. The recorded sound is full and clear.
Tim Homfray