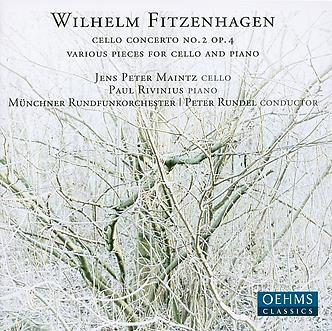 The Strad Issue: January 2008
Musicians: Jens Peter Maintz (cello) Paul Rivinius (piano) Munich Radio Orchestra, Peter Rundel (conductor)
Composer: Fitzenhagen
Coming from an established tradition of virtuoso player–composers, Wilhelm Fitzenhagen joins the likes of Popper, Klengel and Davidov in generating cello-oriented repertoire. His chief notoriety, however, comes from his possibly misguided interference with Tchaikovsky's 'Rococo' Variations, which, in the circumstances, were rather generously dedicated to him.
His own Second Cello Concerto starts out with great promise: a striking Schumanesque melody grabs our ear. But then the true test comes: how does he develop his material? The result is mundane, and nothing can rescue his predictable invention, even the undoubtedly brilliant and expressive performance from Jens Peter Maintz, with incisive partnership from the Munich Radio Orchestra under Peter Rundel.
His other large-scale work, the Dämonenfantasie op.34, takes material from Anton Rubinstein's famous opera The Demon and opens theatrically with bold gestures. Sustaining a 15-minute piece, however, proves elusive, despite the heroic endeavours of the valiant Maintz, who unswervingly wields his bow with bravura.
In essence Fitzenhagen is a miniaturist and produces some likeable numbers, such as the melancholic Serenade op.35 or the virtuosic showpiece Capriccio op.40. He is, though, something of a chameleon composer: the Elegie dons the hue of Tchaikovsky, and Mendelssohn makes a guest appearance in the Impromptu op.43. But these pieces are certainly as persuasive as Davidov's or Popper's creations, and benefit from delightful renditions from Maintz, who nourishes every phrase with character and conviction. Moreover, the ensemble with Paul Rivinius is impeccable, and the recording of the piano has a pleasing bloom. There's no scent of a masterpiece here, but some elegant and rewarding cameos.
Joanne Talbot