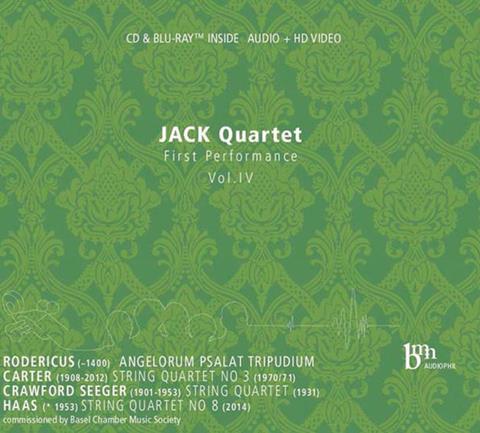 The Strad Issue: July 2015
Description: New (and nearly new) music given the full Jack treatment
Musicians: Jack Quartet
Composer: Carter, Crawford-Seeger, G.F. Haas, Rodericus
Fearlessly tackling the most cutting-edge contemporary music, the Jack Quartet is an exceptional group, so it's no surprise that this disc – recorded live in Basel – features some stunning performances.
Violinist Christopher Otto's arrangement of the two-part Angelorum psalat tripudium from the 14th-century Chantilly Codex adds two further parts for rhythmic definition. The purity of tone here means that Elliott Carter's Third String Quartet seems to launch in with extra explosive force. Carter splits the group into two duos, allotted different material. The playing is a feat of fierce independence and fine balancing, as the quartet traces endlessly varied textures.
Ruth Crawford-Seeger's 1931 Quartet is often hailed as the first modernist example of the form. The Jacks play it as a party piece, bringing pinpoint detail to the teeming first movement, rich layering of sustained sounds in the second and a fascinating fixed-yet-changing relationship of three players contrasted against one in the finale.
Austrian Georg Friedrich Haas's Eighth String Quartet is at first a hard listen, with an opening fugato subject outlined in microtones. But the Jacks create a purity within this dissonance and explore a section based on overtone chords with otherworldly wonder. This work receives a spoken introduction (in German) on an accompanying Blu-ray disc. The clean recording highlights the eye-watering difficulty of these pieces and clearly exposes the group's abilities.
EDWARD BHESANIA