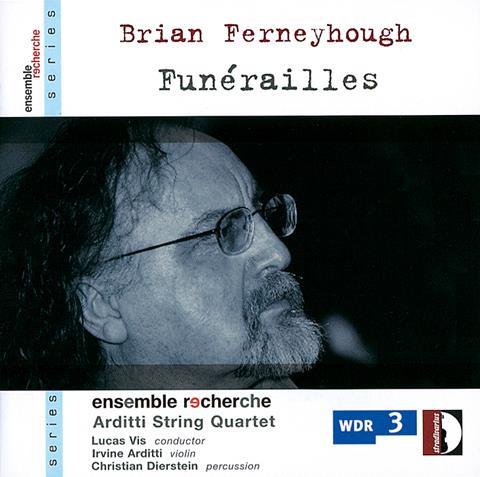 The Strad Issue: January 2006
Musicians: Irvine Arditti (violin) Christian Dierstein (percussion) Ensemble Recherche
Composer: Ferneyhough
Even a page of Elliott Carter can look pale in comparison to the profusion of notes and instructions on a score by Brian Ferneyhough, and this has left the German-domiciled British composer in the unfortunate position of being more talked about than heard – in the English-speaking world, at least: in mainland Europe his status as one of today's most vivid and inventive musical voices is assured.
This disc should throw that voice a little further. The composer says Funerailles I represents 'a ceremony taking place behind a curtain or far away'. Even if it is belied by the necessarily close recording, that description does give a good idea of the haunting, muted feel of a piece that moves with a steadier tread than its surface detail would at first suggest.
Funerailles II retains the seven strings and harp to give an intense 'commentary' on the original, its gestures magnified but still governed by the same growth and release of tension that permit instinctive response, especially when those gradations of tension are so carefully registered and freely expressed as they are by Ensemble Recherche. Even the darting progress of the solo Unsichtbare Farben need not disconcert a sharp pair of ears, once they are tuned in to Irvine Arditti's tone-painting of a myriad 'unseen colours'.
Completed by a performance of the solo-percussion Bone Alphabet that is less assertive, higher-pitched, better edited and more beguiling than a rival recording on Etcetera, this is a disc to show that complex need not mean unapproachable.
Peter Quantrill