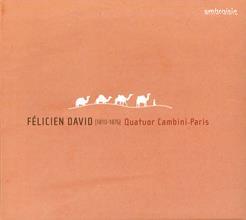 The Strad Issue: January 2012
Description: Welcome advocacy for music by a little-known 19th-century French composer
Musicians: Cambini Quartet Paris
Composer: Félicien David
Félicien David (1810–76), a member of the Saint-Simonian movement and a pioneer in the use of 'oriental' material in his music following his travels throughout Asia, is perhaps one of the more unusual and enigmatic figures of the 19th century. The string quartets here indicate a conservative but artful style – they are beautifully written with a notable simplicity enlivened by passages of humour and pathos.
There is a lightness to the texture of the First Quartet of 1868, integrated with some haunting writing – in the first movement, for instance – that cuts to the chase with devastating effect. The Second Quartet is perhaps a little darker, while the fragment from the unfinished Fourth proves gloriously dramatic. In truth, this is material that deserves to be better known and the Cambini Quartet, a period-instrument ensemble formed in 2007, does ample justice to them. Its crisp playing is enlivened by some cautious but still welcome portamentos – particularly evident in the second movement of the Second Quartet, which includes a beautifully judged dialogue between violin and cello.
Ambroisie has produced an unusual and thoroughly enjoyable disc that in terms of sound has wonderful clarity, ambience and vividness.



David Milsom