The combination of violin and orchestra has in recent years inspired a proliferation of diverse new works. Here three top soloists discuss giving their premieres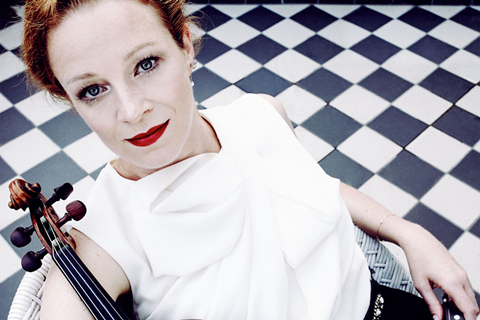 Carolin Widmann
I've played 107 violin concertos – from the most famous to the almost unknown – and together they show the diversity of what our instrument has to offer. Of the 30 or so concertos by contemporary composers I have performed or premiered, 14 were written since 2000. What strikes me is that the violin concertos from this century are all so different, with such diverse aesthetic values. Composers are looking beyond the traditional violin concerto, and few of them even call it a violin concerto.
There is an orchestra and a violin, but the roles, hierarchy, form and shapes have changed.Some of the concertos I've performed in recent years are more like conceptual art, where there is an onus on the audience to understand the piece. They are experimental, explore concepts or moods, and take many forms. Rebecca Saunders's violin concerto Still takes a radically new approach: the first part is extremely nervous and rhetorical, the second completely still. This summer we premiered a new version that included a middle part with dancers – and I'm also involved with the dancing.
Jürg Wyttenbach's concerto involves me speaking and acting as the French painter Gustave Courbet. Mark Andre has written probably the most radically contemporary concerto I have played so far, where almost no "normal" violin note is played: harmonics are not natural, or they sound broken, or full of overtones.
Morton Feldman's work for violin and orchestra is one of the most unusual this century. It is highly complex and concentrated, and he is ingenious at taking restricted resources and inventing colours, orchestrations and rhythmic structures that require a different kind of virtuosity. This is far away from the traditional Romantic concept of the show-off violinist "accompanied" by the orchestra, which has largely been left behind. But I actually think the audience is still longing for the virtuosity.
In pieces where my role is reduced to very few notes, listeners want the violinist to shine, to have a melody to hang on to. A few composers are still writing in the traditional way, such as Anders Hillborg, who has written a highly virtuosic work with beautiful harmonies; and also Thomas Adès, who in a different way is writing in a more traditional vein. His violin concerto is highly complex and yet people can connect with it.
Interview by Chloe Cutts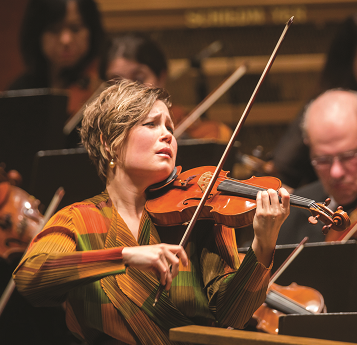 Leila Josefowicz
Composers have spent the past three centuries getting rid of rules and conventions, freeing up the form and structure of the concerto and the roles of the orchestra and violin. Thomas Adès has them playing games with each other, their lines overlapping at different speeds, while Matthias Pintscher uses intricate shifts of timbre to create a kind of sonic mosaic. Scheherazade.2, which John Adams wrote for me in 2014, is sub-titled "a dramatic symphony for violin and orchestra". That interactive relationship is vital to the work's social message and the narrative of the solo part, the voice of a woman who fights oppression and convention, and is stronger than the men who want to silence her.
Unlike in a typical concerto, the orchestra is never 'held back' for her to sing out – she has to struggle against it. Theatrically, it challenges the conventional idea of what a violin concerto should be; the issues it confronts – sexism and bigotry – would previously have been well beyond the form's reach. This evolution is very exciting because it's more important than ever that art confronts injustice head on. Part of the reason I'm so attracted to modern repertoire is because I am fascinated by rhythm: along with the orchestra you have to find that golden tempo and let it groove.
Pintscher, whose concerto I'm learning at the moment, requires precise rhythmic co-ordination between the soloist and orchestra. All the players must be aware of the tiniest increments of the beat so that they can pass complex subdivisions between parts. They both demand absolute comfort and rhythmic accuracy between the soloist and orchestra, so that the whole thing still feels free and organic.I think my obsession with new music goes back to very early in my career. Felix Galimir, who was one of my teachers at the Curtis Institute, gave the first performance of Berg's Lyric Suite and it was incredible to have a tangible link to that kind of history.
But it was an environment where even composers like Bartók were considered very modern indeed, which only made me more excited to challenge the idea of the "standard repertoire" once I had the freedom to do so later on. When I'm learning a new concerto, I internalise my part with the same intensity that an actor would. You have to take on its personality completely in order to make it convincing. If you play a concerto from the 21st century, the odds are high that it won't have been performed all that much before. If you're really lucky, you might be exploring entirely uncharted territory.
The composer is very vulnerable because the way a soloist plays a new concerto has a big impact on how much the audience enjoys listening to it and, ultimately, how well it survives. That's why I put such an emphasis on learning the language of a piece, especially since composers today write in such a huge range of styles and idioms. Making it all make sense is a big responsibility, but one that I love.
Interview by Tom Stewart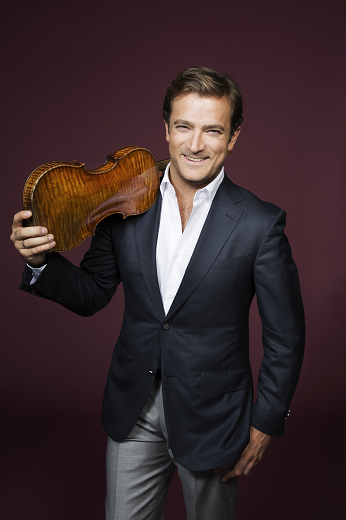 Renaud Capuçon
It's no surprise that the violin concerto remains such an exciting format for 21st-century composers. The violin is always brilliant, always shining, and because of its tessitura it never has a problem being heard. It will always be the centre of attention, whether it's cast in a traditional solo role or as part of a sinfonia concertante.My latest recording comprises three new concertos, written for me by Wolfgang Rihm, Pascal Dusapin and Bruno Mantovani.
The first on the disc is Rihm's Gedicht des Malers ('Poem of the Painter'), an homage to Eugène Ysaÿe. Rihm has composed many pieces for violin and orchestra, each with a completely different atmosphere; with this work he explores the violin's colouristic possibilities as a painter would, and indeed during the rehearsals with the Vienna Symphony Orchestra Rihm was demanding when it came to colour and dynamics. The violin sings from beginning to end, in all its registers and in a very lyrical way. The concerto is very modern – a true 21st-century piece – although it sounds almost post-Bergian.
As for structure, instead of the traditional three-movement format it is cast as a one-movement poème, and similarly Mantovani's concerto departs from the standard format: his Jeux d'eau for violin and orchestra – which takes water as its source of inspiration – is also in one movement, very virtuosic, and in one gesture. These aspects illustrate some of the most pervasive attributes of recent violin concertos I have heard and performed: a breaking-away from the formal structures, and writing that explores the nature of the instrument.
I recently performed Matthias Pintscher's mar'eh for violin and orchestra, with the Berlin Philharmonic, and with this work you have yet another new experience. It begins with the violin almost alone, very very high, and the solo line very complicatedly written. The work then unfurls as a constant thread – there is no huge climax – and the end result is very different to any other concerto. It's wonderful to play: amazingly colourful.
The Mantovani and Dusapin concertos both contain cadenzas. New violin concertos no longer always have them, but when they do it's interesting how much freedom composers encourage, sometimes even as far as asking me to improvise. This, of course, is why playing and practising with living composers is one of the most exciting experiences for a musician: being there for the evolution of the work, and being able to ask questions.
Interview by Charlotte Gardner
These interviews were part of a larger feature on 21st-century violin concertos in T he Strad's January 2017 – to read the full article, download on desktop computer or through The Strad App.