Competition jury member Karine Georgian notes Harbin's long musical tradition and hails a competition with a healthy process – as well as worthy winners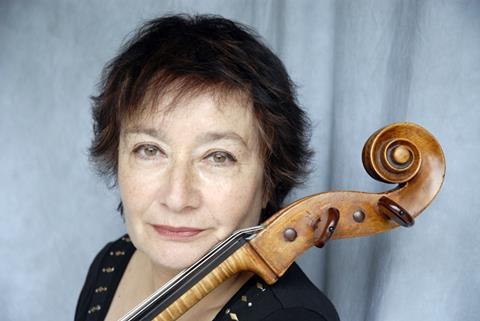 In 1956 I was a schoolgirl in my father's cello class at the Gnessin School in Moscow — my father, Armen Georgian, an outstandingly accomplished cellist, was also one of Moscow's most respected professors. He had recently accepted an invitation to go to China as part of an exchange programme of leading academics, cultural and scientific figures, and naturally I would have to go too in order not to interrupt my own studies at a critical stage. I remember seeing my pigtailed photo in his external passport because I was too young to have my own.
The exchange was expected to be for quite an extended period, a couple of years probably, so had it gone ahead as planned I would have passed at least some of my adolescence in China, and might even have ended up in Harbin, a city that since the beginning of the 20th century had fostered a tradition of Russian teachers and musicians, not to mention engineers and construction workers building the Chinese Far Eastern Railway, ordinary citizens escaping the aftermath of the October Revolution and the ensuing Civil War, Jews fleeing the pogroms.
Its music school (China's first) has existed since 1921. One of the first things I saw on going into its building in the city's Old Quarter was a large bust of Alexander Glazunov. Harbin prides itself on being the earliest Chinese city to engage with Western music and to integrate its traditions with those of Chinese classical music.
But 1956 was the year of the Chinese Cultural Revolution, fatal to Sino-Soviet relations generally, so the exchange project was scrapped. I stayed put in Moscow, in due course joining Rostropovich's class at the Moscow Conservatoire. More than half a century would elapse before I was to find myself in Harbin in late July this year, as a judge in the 2018 Schoenfeld International String Competition. Better late than never.
Much better, in fact, since the experience was exceptionally rewarding in many ways. Harbin, far up in China's North East not far from the border where the Siberian Far East curls down the Pacific coast towards Vladivostok, may seem remote from the major centres of Beijing, Shanghai, Guangzhou and so on, but it doesn't feel so when you are there. It's a thrusting modern city of five million people with an energy and determination to succeed the most casual visitor cannot fail to sense.
A place, you might say, where competition is in the air. That is certainly the impression given by the city's major cultural venues, the amazing Grand Theatre, designed by the MAD Studio in Beijing and described (accurately) as 'sculpted by wind and water', and the Concert Hall, designed by the Japanese Arata Isozaki with excellent acoustics by Nagata of Tokyo.
The structure of the third biennial Schoenfeld International String Competition had three sections: a violin section with a jury chaired by Jean-Jacques Kantorow, a cello section (chair David Geringas), and a chamber music section, finalists selected from video submissions.
All the final rounds were adjudicated by the combined violin and cello juries. In a smoothly administered process distinguished by sympathetic attention to the practical and emotional welfare of the contestants, as I could see for myself from the affection and camaraderie that visibly developed among them, I particularly welcomed the feedback sessions giving contestants who had not been successful in passing through from the various stages the opportunity to talk informally to us jury members about our experience of and reaction to their performance.
For me the most meaningful aspect of the competition circuit is the inner process through which the young musician is impelled to subject every aspect of technique, musical understanding, practical and psychological preparation to sustained and rigorous testing in order to truly know herself and her powers, and produce the best of which she is capable. There is no more gruelling task than this, and I was happy that many of my feedback encounters allowed me to probe a little into the extent to which it had been attempted and achieved.
I only wish I could have had a similar experience after the Tchaikovsky Competition more than half a century ago at which I was the winner and Gold Medalist, but that jury was made up of such remote luminaries that to approach any of them personally would have been inconceivable. How times have changed!
In the opening ceremony, after all the speeches and concertising, we got a moving glimpse into the extraordinary achievements of early instrumental education in China in the performance by Harbin Conservatory of Music's Children's Violin Art Troupe. Fifty or so young violinists, some as young as seven years old, sat patiently beside the stage for two hours waiting their turn to accompany, with total concentration and impeccable precision, Suli Xue (the competition's artistic director, a native of Harbin, formerly concertmaster of the China National Symphony Orchestra and now a member of the Los Angeles Philharmonic) in an arrangement of a traditional Barcarolle.
To a man, our hard-boiled professionalism melted before their unmistakeable joy and unselfconscious assurance in performing.
I heard a lot of outstanding performances; the overall level was very high indeed. We emerged with two fine winners, the cellist Zlatomir Fung, now living and studying in the USA, and the violinist Lorenz Chen, now living and studying in Germany. The Ulysses String Quartet from the USA carried off the Chamber Music Prize in style.
I wish I had space to single out others whose performances I heard, as there were several I should have liked to flag up to readers of The Strad. But the Competition has uploaded several of them to Youtube. In any case, don't worry, I'm sure they will continue to make their mark in other contexts!