Casals Quartet violist Jonathan Brown chooses three key chamber pieces by the giants of Hungarian music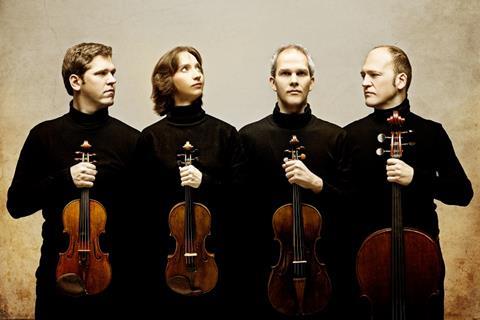 The Casals Quartet will be presenting 'Hungariana' on Sunday 3 February, Milton Court Concert Hall, London. The immersive day will feature three concerts that explore the triumvirate of great Hungarian composers, Bartók, Ligeti and Kurtág. Here Jonathan Brown instoduces three of the works which will be performed during the course of the day, with videos chosen by The Strad team
Béla Bartók: String Quartet no.3
To experience Béla Bartók's third string quartet is to witness a master at the absolute height of his powers: in this quartet, written in 1927, we find Bartók capable of combining the great surge of emotion characteristic of his early works with a fully integrated Hungarian folk idiom. In this most concise of his quartets, he distills the essence of folk motives and rhythms into a few basic harmonic, melodic and rhythmic cells which charge the entire work with great energy and power.
György Ligeti: String Quartet no.1
After the Second World War, György Ligeti began where Bartók had left off. His first string quartet is a kaleidoscopic tour de force, exploiting every possibility offered by the opening motive. Ligeti takes a simple melodic cell (derived from a main theme of Bartók's fourth quartet) and subjects it to every imaginable manipulation: it is stretched, condensed, divided, turned upside down and righted again in a whirlwind display of compositional virtuosity. Along the way we encounter parodies (or perhaps are they hommages?) of waltzes, expressionism, plainchant, a traditional scherzo and everything in between.
György Kurtág: 12 Microludes for String Quartet
Kurtág wrote that his mother tongue is Bartók, whose mother tongue was Beethoven. His 12 Microludes for String Quartet are a beautiful example of the tension in his music between his distinct contemporary voice and his continuing dialogue with the past.
The title is a reference to both Bartók's Microcosmos and the tradition of preludes as short pieces which can also serve as a form of etude; the work is dedicated to Mihály András, for decades a renowned chamber music teacher at the Liszt Academy in Budapest. Each of the twelve short pieces is both a challenge for the performers and a deeply personal statement, expressed with the utmost concision and without any trace of sentimentality.
The Casals Quartet perform three concerts exploring Bartók, Ligeti and Kurtág, with visuals designed by Amelia Kosminsky (Guildhall School of Music & Drama BA Video Design for Live Performance). Part of the Barbican Presents 2018-19 season, Sunday 3 February, Milton Court Concert Hall, London