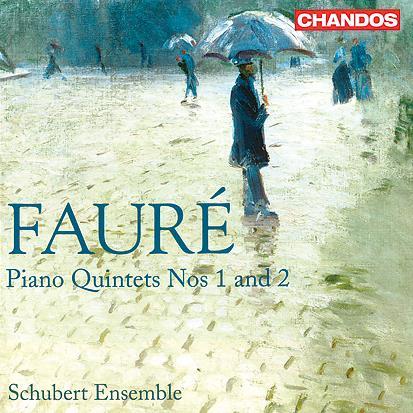 The Strad Issue: January 2010
Musicians: Schubert Ensemble
Composer: Fauré
William Howard's piano opening of Fauré's First Piano Quintet conjures up water rippling through stones, and it is that fresh and open-air atmosphere that permeates the whole of this performance. It has often been said that the work does not readily yield its secrets, but the Schubert Ensemble players reveal its abounding beauty, and those passages that hang on air suspended with the delicacy of a spider's web. The unhurried view of the finale only adds to its feeling of innocent charm, in total a very different approach to the troubled litany we hear elsewhere.
The yearning for times long past that I have always found in the Second Quintet is here reflected in a similar view, with a bittersweet element ever present. Where the second movement abounds with pleasure, the third has the heartache of old age. There are a couple of moments where we need more rhythmic security, but this is technically very fine playing.
The recording by Domus has long held pride of place on disc, but those readings have the group's individuality stamped all over them, whereas the Schubert Ensemble players stand back more, allowing the composer every chance to speak for himself. Chandos provide a suitably transparent recording.


DAVID DENTON