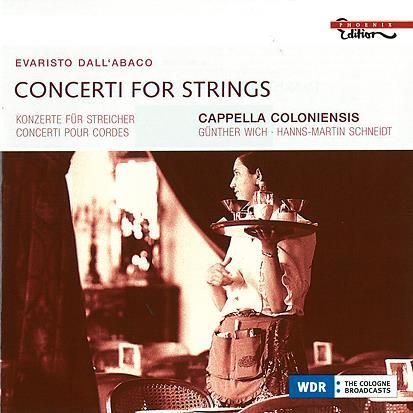 The Strad Issue: January 2010
Musicians: Cappella Coloniensis/Wilfried Boettcher*, Hanns-MartinuSchneidt† , Günther Wich‡, György Fischer¶
Composer: Evaristo dall'Abaco
Founded in 1954 by Northwest German Radio, Cappella Coloniensis claims to be the oldest period instrument ensemble in the world. It seems to have had a soft spot for the music of Evaristo Dall'Abaco (1675–1742): these recordings were made at six sessions between 1969 and 1978, with four different conductors. The playing lacks the raw vitality of some period performance, but then again, this is all rather genteel music. Dall'Abaco, although proudly Veronese, spent most of his career following his employer the Elector of Bavaria around 17th-century northern Europe as he fled one military disaster after another. The elector's taste for all things French is reflected in Dall'Abaco's elegant music.
Cappella Coloniensis displays great consistency of style over its ten years of recordings, with refined, immaculate playing and a pleasantly creamy sound. There is sparkling energy in some of the fast movements, although fast here is a relative concept, and the various Presto and Allegro assai movements go by at a respectable canter. The sustained playing is a delight, particularly effective in the layered suspensions of some of the slow movements: the Adagio of op.2 no.6 is gorgeous. The players' sound, and that of the recording, is full and warm.



TIM HOMFRAY