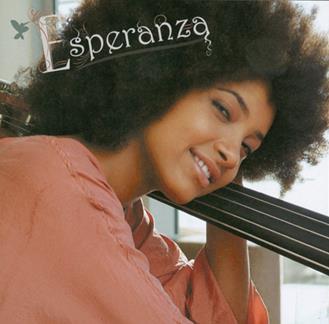 The Strad Issue: January 2008
Musicians: Esperanza Spalding (double bass/electric bass/voice) Leo Genovese (piano) Otis Brown (drums) Horacio 'El Negro' Hernández (drums) Jamey Haddad (percussion) Niño Josele (guitar) Donald Harrison (saxophone) Gretchen Parlato (backing vocals) Theresa Perez (backing vocals) Ambrose Akinmusire (trumpet)
Composer: Various
Double bassist-cum-singers are a rare breed, and this debut album could awaken interest for that reason alone. But this Portland-born Berklee graduate (appointed its youngest ever professor in 2005) is not a novelty sideshow, delivering a classy, fresh and exuberant album of sophisticatedly arranged Brazilian classics and originals that blend contemporary latin jazz, swing and soul.
Spalding's simultaneous playing and singing is rarely played up, showcased in just two stunning scat-bass solos in which neither instrument is compromised by her multitasking. Here, and throughout the album, similarities between her bass (both stand-up and electric) and vocal sounds emerge: both are extremely agile, clean but capable of warmth when required. Her pizzicato sound is rounded and soft-edged: in accompaniment it is largely understated and often low in the mix (which is beautifully and clearly blended), especially when doubling bass lines on the piano; but she can drive a groove on her own, as in the shuffle of 'If That's True'.
Her improvisations are full of attitude, restless yet cohesive – a feature of her writing too, as epitomised by 'I Know You Know', in which a sassy, funky R'n'B groove paves the way for Spalding's creamy vocals and subtle incursions of Latin jazz influences. Leo Genovese's piano is often Tyner-tinged in solo passages, propulsive yet lithe elsewhere, especially in the samba 'I Adore You', while Otis Brown and Horacio Hernández share the drumming duties with elan. Bass fans, as well as vocal and jazz aficionados, should all have a listen.
Chris Elcombe