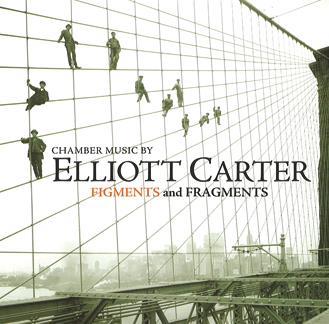 THE STRAD RECOMMENDS
The Strad Issue: January 2008
Musicians: Johannes Martens Ensemble
Composer: Elliott Carter
There's something gripping about the sheer vitality of Elliott Carter's music, all the more amazing when you consider that he celebrates his 100th birthday this month. This collection of the great American modernist's chamber music, played with charismatic brilliance by the Norwegian Johannes Martens Ensemble, gives a real insight into the development of his musical language over the past 50 years.
The Cello Sonata was written in 1948, and is infused with the energy and passion of a composer beginning to get to grips with his mature style. The final scampering Allegro is particularly fine: here there are moments of exquisite delicacy when the pace subsides, only for the two instruments to dust themselves down and race off again. Cellist Johannes Martens and pianist Joachim Kjelsaas Kwetzinsky revel in the fine detail of the music without ever losing a sense of its over-arching shape.
The bulk of the other works on the disc were written in the last 20 years, and bear out the more delicate touch of a mature craftsman. In the expansive Figment, for solo cello, Martens manages to maintain the thread of continuity from the loose-limbed opening through powerful chords back to flowing melodies. Other works are equally powerful, from the caprice-like Figment no.2 for cello and flute, to the two fragments for string quartet, the first all glassy textures and spindly harmonics, the second full of Carter's characteristically long-drawn lines.
The warm-spun 1943 Elegy makes the perfect ending to the disc, melancholy and lovely, with the seeds of Carter's developing language lying just beneath the surface.
Catherine Nelson