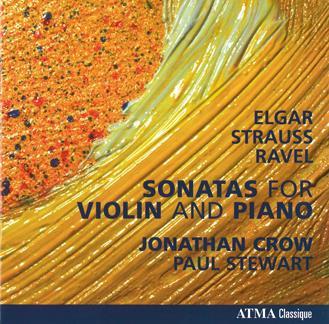 The Strad Issue: January 2008
Musicians: Jonathan Crow (violin) Paul Stewart (piano)
Composer: Elgar, Strauss, Ravel
Six years ago, and at the age of 25, Jonathan Crow was appointed concertmaster of the Montreal Symphony, becoming the youngest leader of a major North American orchestra. More recently he has divided his time between a solo career on both sides of the Atlantic, and his position as head of strings at McGill University.
Intuitively a violinist of the French school, he reveals a fast and tight vibrato producing a sweet and elegant tone that recalls the silken musicianship of Arthur Grumiaux. It proves ideal for the subtle shifts of colour and innate lyricism of Ravel's youthful sonata, where the unhurried approach finds that elusive cool centre at the heart of the composer's sensuality.
He holds together the episodic nature of the opening movement to Richard Strauss's early sonata and his rhythmically supple and expressive playing brings abundant beauty to the lyricism of the central Improvisation. However, he lacks the heroic stance needed to breath life into the finale, a missing element that is further emphasised by the robust approach of the excellent Paul Stewart at the piano.
Crow's tonal quality also brings a fresh and lightweight approach to the Elgar. With Stewart carrying the main thrust of the score, Crow is happy to decorate the melodic line in the outer movements, but I do find the personal and unvarying way that he phrases violin passages in the central movement accentuates the rather repetitious nature of the music.
The recording is outstanding in balance and tonal quality.
David Denton