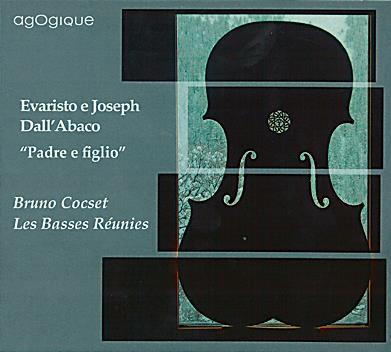 The Strad Issue: January 2013
Description: Successful accounts of music from an 18th-century Italian dynasty
Musicians: Bruno Cocset (cello/viola/tenor violin) Les Basses Réunies
Composer: E. Dall'Abaco, J. Dall'Abaco
Joseph Dall'Abaco's capriccios are here interspersed among selected movements from the sonatas opp.1 and 3 by his father, Evaristo, transposed for a variety of instrumental combinations. Bruno Cocset performs Joseph's solo capriccios on a new cello, constructed by Charles Riché after 17th-century models. This instrument's raw sound quality is well suited to the capriccios' varied characters, satisfying Cocset's quest for a cello capable 'of speaking and dancing, as well as singing'. He negotiates the capricci's technical and musical challenges with remarkable facility, style and conviction, offering strong, meticulously prepared readings full of flair and imagination. Any negative criticism centres on two aspects: his tendency to over-articulate, for example in nos.9 and 11, and the close recording, which allows the clack of fingers on fingerboard to be easily audible.
More mature Riché instruments are used for Evaristo's sonata movements, their mellower tones suiting the largely melancholy and melodious nature of the music, expressively interpreted. However, an Allegro from op.1 no.5 on tenor violin and a Presto assai for harpsichord from op.1 no.12 are rattled off with aplomb, the latter ending almost as abruptly as Joseph's unfinished eleventh capriccio. Overall, these players successfully bring father and son's music to life in an unforced, natural and highly colourful way.


ROBIN STOWELL