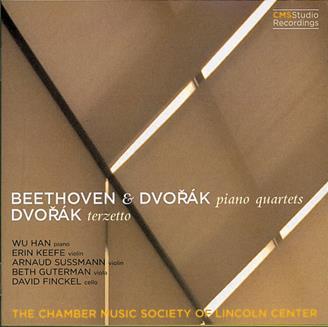 The Strad Issue: January 2008
Musicians: Chamber Music Society of Lincoln Center
Composer: Dvorák, Beethoven
Dvo?ák's Terzetto, for two violins and viola, gives a clue to the strengths if also the limitations of these three readings by the respected Lincoln Center Chamber Music Society. Their approach is sturdy, muscular and stock-full of Brahmsian ardour and urgency, though with less of the gaiety associated with Dvo?ák's Bohemian roots: some listeners might sense an authentic Czech folk element is missing. Yet Dvo?ák's exquisite pairings of two violins, and of each with the viola, are carried off with spirit, and in a piece that can seem blithe and trivial all three players reveal an unusual dark-hued undertow and symphonic depth.
Beethoven's earlyish quartet of 1796 warrants a forceful presentation: here Haydn sonata form meets the first whispers of Romantic effusion. The pacings in the extensive Grave–Allegro seem rather stolid: one would like more freeing up, although there is an admirable consistency throughout. The Andante and Rondo come over with admirable conviction, assurance and polish, thanks not least to appealing contributions from both violins, and the group's splendidly articulate pianist, Wu Han.
Dvo?ák's later Piano Quartet in E flat major (1889) paved the way for his entrancing American-period chamber works, and is given a beautifully focused reading, with especially fine touches from cellist David Finckel in the Lento, and (again) two exciting and well-executed later movements. One takes huge pleasure, especially, from the beautifully refined, lucid and appealing playing of all these players as individuals. The violin tone is gorgeously uplifting, and all five are excellently captured by CMS.


Roderic Dunnett