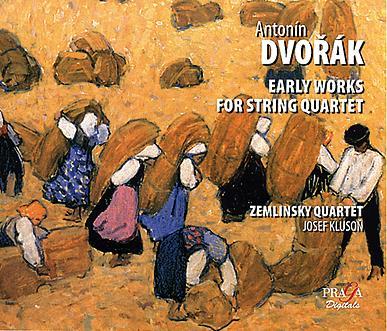 The Strad Issue: January 2007
Musicians: Zemlinsky Quartet, Josef Kluson (viola)
Composer: Dvorák
Dvorák completed his first seven string quartets within a period of 13 years in the flush of youthful creativity, though only the Seventh was published in his lifetime. The present disc uses the performing versions from the 1985 edition of the composer's complete chamber music, and the early quartets are described in the accompanying booklet as being reduced 'to a density and length compatible with their programming in concert'. If you already own the Prague Quartet's 1975 DG recordings you will be surprised, for instance, to find the Third Quartet now distilled from 70 to 35 minutes. Some will welcome the reining in of Dvorák's early expansiveness. At times displaying the influence of Schumann, the scores nevertheless show the musical fingerprints of Dvorák's mature works, though he was still using the by then dated format of a solo violin accompanied by the other three instruments.
The Zemlinsky Quartet, winner of the third prize in the 2006 London International String Quartet Competition, is a well-balanced group that takes infinite care over dynamic detail. The players bring that laid-back and inherently Czech lilt to the dance movements, with the waltz in the Fifth Quarte a particular delight. Ensemble is generally good, as can be heard in the dovetail passages that run quickly through the four instruments in the finale of the Seventh, and individual articulation is mostly neat and precise. Yet these often felt like fine performances still in the making, and it sometimes seemed as if the fresh and vibrant young musicians still needed time to grow into the music. This is highlighted by directly comparing any moment with the refined, thoughtful and lovingly shaped accounts of the Vlach Quartet Prague (Naxos), which are altogether more strongly recommended.
The recording offers a transparency which reveals inner details, though I feel some further editing would have helped.
DAVID DENTON