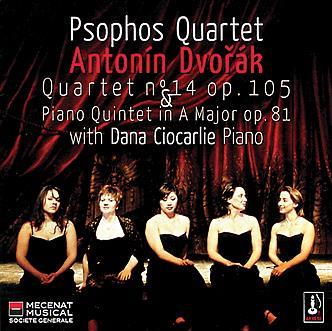 The Strad Issue: January 2007
Musicians: Psophos Quartet, Dana Ciocarlie (piano)
Composer: Dvorák
The Psophos continues on its inconsistent path with this CD, which contains one good performance and one that has sorely tried my patience. The adorable A flat Quartet opens with a well-played introduction and the subsequent Allegro is freshly done. I like the occasional saucy portamento by the leader but the somewhat raw recording of the violins is less pleasant. The cello, on the other hand, is superbly captured by the engineer.
I enjoyed the other three movements even more than I did when I heard the group play the work in concert. The superb Scherzo and its trio are delightfully done, the Lento is very romantic and the garrulous finale does not outstay its welcome.
Sadly the touch is much less sure in the quintet. The Romanian pianist Dana Ciocarlie is inclined to be insensitive and the slower sections of the first movement, beginning with the initial cello solo, are enervated. Faster sections by contrast are too febrile.
In the Dumka, the slow sections plod – there is no other word for it. The last two movements have enjoyable aspects but also some lapses in concentration, leading to poor tuning. As I indicated, the recordings are not ideal – working in a different auditorium, the same engineer produced better sound for the Psophos's 2004 disc of Maurice Ohana's quartets.
For Dvo?ák, the Panocha Quartet (Supraphon) is the best bet in up-to-date sound, although the Smetana Quartet's vintage versions of these works (Testament) should also be heard. Presentation of this new disc is excellent.
TULLY POTTER