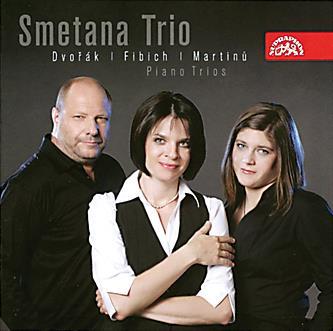 Musicians: Smetana Trio
Composer: Dvorák, Fibich, Martinu
The Piano Trio in F minor, perhaps the most compelling of Zdenek Fibich's early chamber works, predates both Dvo?ák's great Piano Trio in F minor (op.65) and its predecessor in B flat major (op.21), which also appears on this disc.
The passion and energy of the 21-year-old Fibich's grandly conceived opening Molto con fuoco is magnificently sustained here by the Smetana Trio, with a greater warmth of string tone than in their equally impassioned but fractionally more prosaic Dvo?ák reading that precedes it. There, in the B flat major Trio, this effortlessly competent Czech trio eschews any Bohemian feel in favour of an insistently (albeit legitimately) Germanic treatment, stronger on robust ensemble and forceful delivery than on individual suppleness and inventive rubato.
The short slow movement also needs some more character – difficult to achieve in a brief space. But Fibich's finale, full of expansive gesture, is tackled with firmness and gusto. Cellist Jan Pálenícek was a student of virtuosi Alexander Vectomov and Milos Sádlo and also a chamber music pupil of the great violinist Josef Vlach; he and violinist Jana Vonásková-Nováková pair searingly together in some fast-moving unisons, while pianist Jitka Cechová admirably makes the running.
Martinu's D minor Piano Trio was composed in 1950 when the composer was almost 60. Despite a fiery finale in which all three excel it also contains the most intimate moments of these three trios, and violinist Jana Vonásková-Nováková, though not especially characterful elsewhere, has one of her most beguiling moments in some low-lying passages of its confidential Andante. I didn't entirely warm to the serviceable but slightly bitter Supraphon sound.


Roderic Dunnett