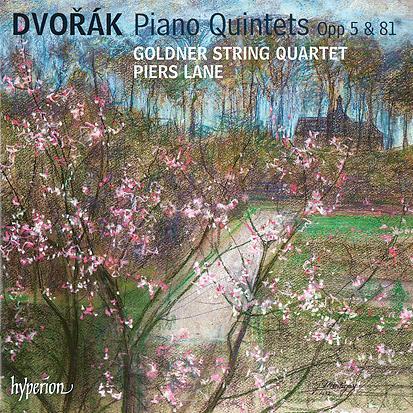 The Strad Issue: January 2010
Musicians: Goldner String Quartet, Piers Lane (piano)
Composer: Dvorák
This coupling of Dvo?ák's two piano quintets contrasts the composer's somewhat discursive apprentice work with its?richly acclaimed successor. Australians Piers?Lane and the Goldner Quartet provide musically sensitive and carefully determined readings. They capture the moods and spirit?of the opening movement of op.5, showcasing Dvo?ák's absorbing melodic eloquence and early harmonic originality, and relishing its heroic conclusion. Their admirably sustained account of the Andante's outer sections is well contrasted with their more intense, restless approach to its centrepiece, and they launch into the?sonata–rondo finale with real gusto, dancing their way through to its triumphant?conclusion.
These players' polished, expansive account of op.81 is bursting with dramatic incident, fiery exuberance, expressive subtlety and meticulous dynamic control. They generate the requisite excitement for the first movement's joyous, swaggering coda, capture the contrasting moods of the lyrical Dumka with admirable flexibility and spontaneity, and establish a persuasive sense of tranquil contemplation for the middle section of the scherzo. Their?finale has all the requisite joie de vivre, yet takes on a dramatic Beethovenian aspect in its more forceful episodes, the fugato section making a particularly powerful impact. Frustratingly, Piers Lane's exemplary pianism often seems too distant in the?overall balance.



ROBIN STOWELL