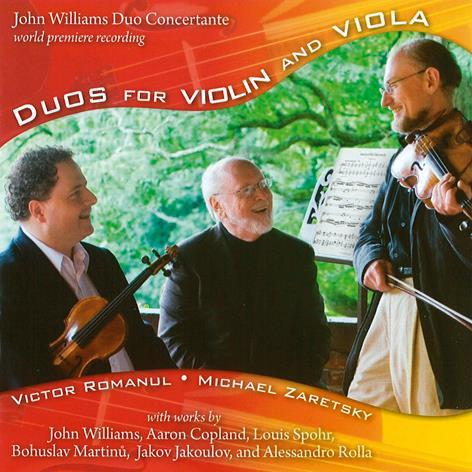 The Strad Issue: January 2009
Musicians: Victor Romanul (violin) Michael Zaretsky (viola)
Composer: John Williams, Copland, Spohr, Martinu, Jakulov & Rolla
'Top billing' – to use appropriate Hollywood parlance – is given on this CD to the world premiere recording of the Duo concertante by John Williams, a composer not readily associated with chamber music. Its inspiration was a performance of Martinu's Three Madrigals by the present players, both members of the Boston Symphony Orchestra. Williams's piece starts impressively with four-part chords in both instruments creating an organ-like sonority before dissolving in scalic passages of a virtuoso character. The improvisatory slow movement follows without a break into the brilliant finale. Victor Romanul and Michael Zaretzky make the most of Williams's lyrical vein in a luscious performance. Martinuu's Madrigals are also included, in performances that I find too relentlessly brilliant for their own good, missing some of the mid-European introspection that the best Czech players have brought to this music.
Jakov Jakulov's Chant IV is another first recording. Part of a cycle of duets for various string instruments, this piece contrasts effectively the timbral characteristics of violin and viola. Copland's Elegies is a ten-minute meditation enlivened by some contrapuntal passages, reminiscent of Stravinsky's unaccompanied viola piece of the same title. Spohr's Duo reflects its composer's somewhat idiosyncratic technique, with passage after intricate passage that is even more difficult than it sounds. Romanul and Zaretzky get around some intractable double-stops with flying colours, but again seem reluctant to let the music's somewhat rough charm speak for itself.
Rolla's Duo concertant in C major op.15 no.3 is a more obviously virtuosic, 'anything you can do I can do better' kind of piece. Both players can certainly do anything Rolla throws at them, and the performance brings this well-recorded and nicely presented pair of CDs to a rousing conclusion. However, I cannot help recalling a 1976 recording of this piece (last seen on a Dynamic CD), in which Salvatore Accardo and Luigi Bianchi show more impish fantasy, exhibiting even crisper articulation at breath-taking tempi.
Carlos María Solare