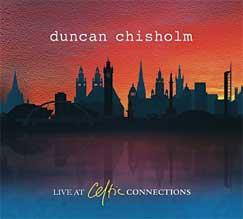 THE STRAD RECOMMENDS
The Strad Issue: January 2014
Description: A powerful evocation of place in a live concert of Highland fiddle music
Musicians: Duncan Chisholm (violin/voice) Ross Hamilton (bass) Allan Henderson (piano/fiddle) Jarlath Henderson (Uilleann pipes/whistles) MartinuO'Neill (bodhrán) Matheu Watson (guitar), string & brass ensemble/Garry Walker
Composer: Traditional
After applause, a reverberating fiddle tune laced with melancholy, Unknown Air, rises and falls before the single line is joined by a string ensemble to complete the strong sense of a pastoral scene. It is an affecting opening to this live recording, captured at the 2013 Celtic Connections festival in Glasgow, and is emblematic of Highland fiddle music: directly emotional, nostalgic and evocative of the area's natural beauty.
A senior fiddle player on the Scottish folk scene, Duncan Chisholm lives, and has centuries-old clan roots, near Loch Ness and has spent much of the last decade celebrating this heritage, recording a trio of albums, the Strathglass Trilogy, inspired by the landscape of his home. From this body of work he created a suite for this world-premiere performance, presenting it with a sextet of traditional players and 20-piece orchestra, conducted by Garry Walker.
The enlarged forces provide a warm sound palette to support both Chisholm's singing and his agile fiddle playing, and the soulful melodies from the albums, such as the brief air Rubha Nam Marbh. Happily, for a concert featuring so many musicians, the sound quality and balance are excellent throughout, and Chisholm's airs and reels soar from the speakers, as they clearly did on the night in question.
Clip: Unknown Air
Tim Woodall