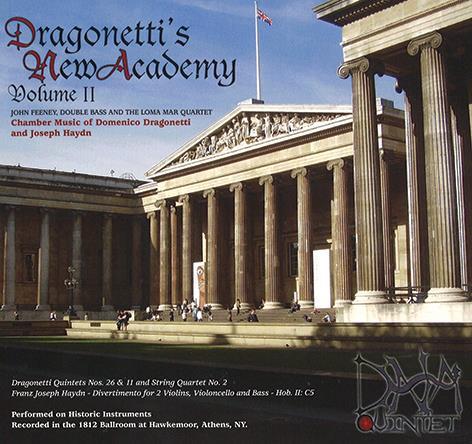 The Strad Issue: January 2011
Description: The double bass is given a starring role in chamber music by one of the instrument's greatest exponents
Musicians: DNA Quintet: Loma Mar Quartet, John Feeney (double bass)
Composer: Dragonetti, Haydn
The DNA Quintet's recording project embraces not only Dragonetti's 31 string quintets and five string quartets but also relevant works by other composers. Apart from some occasional groping for notes in the higher registers, especially in the central, major-mode section of the Allegretto of Quintet no.26, bassist John Feeney demonstrates his technical mastery and sonorous tone in the two quintets. He produces a variety of effects and colours, phrasing melodic material with musicality and elegance, and executing passagework with due bravura. The Loma Mar Quartet plays a largely subservient, accompanying role, although its leader, Krista Bennion Feeney, sometimes joins her husband in dialogue, notably in the second movement of no.26.
John Feeney plays a more typical background role in the Haydn Divertimento, but occasionally comes to the fore, notably when imitating the cello in the opening Presto and in some of the finale's variations.
Dragonetti's Second String Quartet features Krista Bennion Feeney in a concertante role. She performs with remarkable virtuosity throughout, particularly in the third and final movements, although she occasionally plays sharp in the violin's upper ranges. These competent performances are recorded in a pleasing ambience, though the bass sometimes sounds boomy.


ROBIN STOWELL