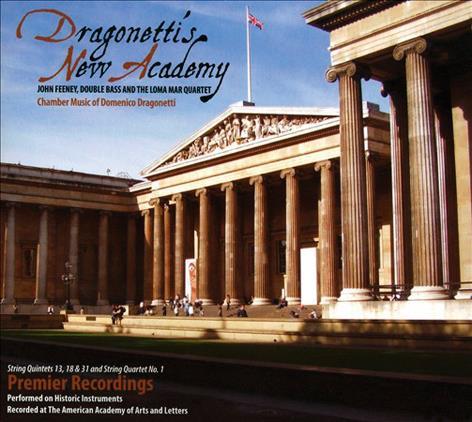 The Strad Issue: January 2010
Musicians: Dragonetti's New Academy: John Feeney (double bass) Loma Mar Quartet
Composer: Dragonetti
Domenico Dragonetti is best known for the reputation he made for himself as a double bassist in London. His music, here represented by string chamber works with bass, is charismatic and quirky – such as the 'Alpine calls' in the 18th Quintet. There is much virtuosity on display, both compositionally (testifying to Dragonetti's legendary abilities) and in the accurate, muscular and impressively controlled playing of John Feeney, principal bassist of the Orchestra of St Luke's.
This said, the results are not always satisfactory. The recording quality can result in roughness at the bottom of the double bass register, and some of the bass intonation is suspect. Krista Bennion Feeney's violin playing also contains noticeable inaccuracies: in the Allegretto of the Quartet no.1, for example, her instrument appears to be flatter than the stopped notes suggest, making for uncomfortable open strings. It may be that there is a degree of discomfort experienced by this otherwise lively and capable group of players when playing 'historic' instruments (fitted, perhaps, with gut strings). There are few obvious concessions to period style on these instruments, however, with a purely modern vibrato – but then again, historical performance does not appear to be the stylistic aspiration anyway. Ultimately, this is an important disc of historically interesting material, is well produced and I can recommend it with some enthusiasm.


David Milsom