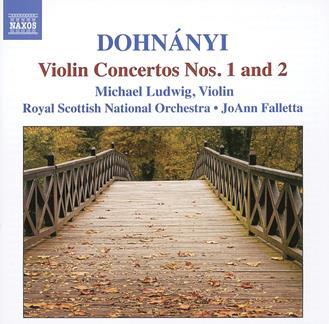 The Strad Issue: January 2008
Musicians: Michael Ludwig (violin) Royal Scottish National Orchestra, JoAnn Falletta (conductor)
Composer: Dohnányi
Erno Dohnányi (1877–1960) suffered an eclipse after his death, ceding place in his native Hungary to Bartók and Kodály, and (except for his popular Nursery Variations) less of a platform performer after abandoning postwar Hungary and Austria for a professorship at the Florida State University, Tallahassee.
Yet his chamber works (recorded by ASV and others) are appealing, and these two violin concertos, which Michael Ludwig (justly lauded in these columns previously for his effortless technique, sweet tone and expressive playing) and the Stokowski Prizewinner JoAnn Falletta reveal to be first-rate Romantic concertos, in well-contrasted performances of aplomb, variety and panache.
Despite their close opus numbers no.1, launched with Sibelian grandeur, dates from 1915, while no.2 was composed in Florida in 1949. Each has four movements and contains several strikingly played cadenzas, on which Ludwig lavishes intensity, flair and insight. Yet the earlier work reflects a mainly 19th-century bravura style, whereas the Second evinces occasional awareness of more modern musical trends.
All eight movements here are involving and bracing: Ludwig's unostentatious vibrato and stylish, gentle use of portamento and rubato enhance the D minor's lovely Andante especially, and Falletta and the orchestra shine in the same concerto's sparkling, firefly Scherzo plus a dark Wagnerian envoi concluding the finale. The changes of mood in the first Allegro and weighty Adagio of the C minor Concerto are riveting. Both concertos have an engaging danse macabre quality in places. The Naxos sound is forceful, and abets the drama: on my player some early intervention to moderate the balance between the speakers helped.
Roderic Dunnett