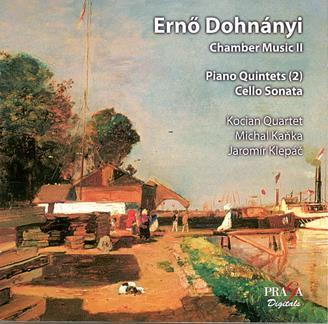 The Strad Issue: January 2007
Musicians: Beethoven Trio, Kocian Quartet, Jaromir Klepác (piano), Ales Hustoles (clarinet), Vladimíra Klánská (horn)
Composer: Dohnányi
Erno Dohnányi is still best remembered for his entrancing Variations on a Nursery Theme for piano and orchestra. Yet a few years ago several splendid chamber music recordings on ASV drew attention to the wealth of smaller-scale music by the composer that awaits rediscovery. The three lively pieces recorded here by two outstanding Czech ensembles easily prove the point.
The first-class musicianship on this disc reflects the distinguished leadership of Pavel Hula, who leads both the Kocian Quartet and the Beethoven Trio. Thanks to H?ula and his two Trio colleagues (both are members of the Prazák Quartet), a perfect rhythmic assurance pervades Dohnányi's magnificent five-movement Serenade of 1902, a lithe, spirited work confirming the masterly inventiveness of the young composer. The fourth movement, a beautifully managed set of variations, recalls Schubert in his prime, especially in the other instruments' deft accompaniment to Josef Kluson's entrancing viola melody and some imaginative writing for the cello (Michal Kanka) in upper register. The Rondo finale is buoyant and triumphant.
In the D flat major Quartet, dating from 1906–7, the Kocian brings out the spaciousness and depth of Dohnányi's noble opening Allegro, emphasising beauty, warmth and tenderness later on, and using several expressive pauses to ideal effect. The central Presto is cheerful and chatty, and Václav Bernásek plays the cellist's key role superbly in the final Animato. The later Sextet (1935), quite a cheekily ironic work, is dominated by the three non-string instruments, though each (especially the piano, played by Jaromir Klepác) makes some delightfully witty and dramatic contributions. The recorded sound, even in more declamatory passages, is admirable.
Roderic Dunnett