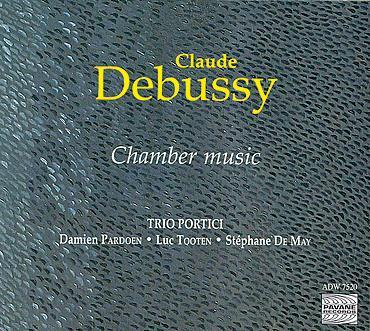 THE STRAD RECOMMENDS
The Strad Issue: January 2008
Musicians: Trio Portici
Composer: Debussy
Five works centred round the resources of a piano trio make a highly desirable Debussy programme that is unique in the catalogue. It is played by an exceptionally well-integrated and highly talented Belgian-based group, which was founded in 2004 and presently serves as the resident ensemble at the Katholieke Universiteit Leuven.
Debussy was racked with illness by the time he began work on the Violin Sonata, and his emotionally fragile world is revealed in the music's wide mood swings. It is eloquently presented by Damien Pardoen's sweet-toned violin, with the dreamlike passages bluntly interrupted by outbursts of anxiety. Stéphane De May's powerful piano initiates the many moments of angst before the finale arrives in happier mood.
The Piano Trio returns to the joy of the composer's youth, the strings dancing around the keyboard in mischievous mood. The light and airy Scherzo is played with impish humour, and I particularly enjoyed the atmosphere of nostalgia that the Portici players bring to the Andante espressivo second movement, before embarking on a sprightly account of the finale.
Luc Tooten's interpretation of the Cello Sonata is free flowing, the opening movement gratefully yielding to his freedom of tempo within the bar-line. In the more capricious aspects of the finale Tooten rushes at the technical hurdles, with passages that chase around the fingerboard lacking absolute definition and pinpoint intonation.
Absolute freedom of expression passes through the two piano pieces that complete the disc. The recording level requires a higher than normal volume setting to bring the sound to life.


DAVID DENTON