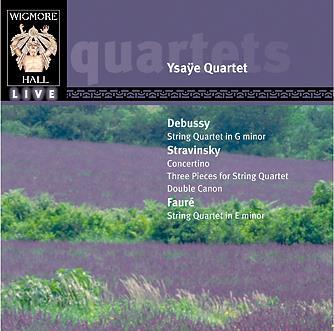 THE STRAD RECOMMENDS
The Strad Issue: January 2006
Musicians: Ysaÿe Quartet
Composer: Debussy, Stravinsky, Fauré
The last quarter of a century has witnessed a revolution in the technical proficiency of the professional string quartet. While there have always been ensembles of exemplary finesse and taste, the general standard is now set at an astonishingly high level. I can think of several studio accounts of the Debussy and Fauré works in particular that couldn't hold a candle to these virtually blemishless performances from the Ysaÿe Quartet. They not only maintain the highest standards of individual and corporate intonation, internal balance, ensemble and dynamic control, they seduce the ear with a range of glowing colours and depth of sonority, captured potently here by producer Misha Donat and engineer Patrick Allen.
Shortly before composing his string quartet Debussy began considering the use of 'ambiguous chords that belong to as many keys as one likes' and 'incomplete chords with floating intervals'. One can particularly sense the sea change in the slow movement and the Ysaÿe responds with playing of dreamy sensuality that magically creates the sensation of the music floating on air. If anything the Ysaÿe's sensitive handling of Fauré's 'late' synthesis of Classical economy and expressive compression proves even more seductive. This is music that can so easily create the impression of meandering in the wrong hands, yet here it feels not a note too long.
Yet it's the Stravinsky pieces that prove a revelation. These extraordinary works often appear to be little more than exercises in rhythm and texture, devoid of obvious 'feeling'. Yet here they emerge as vital parts of the creative canon with an emotional thrust all their own. A triumph.
JULIAN HAYLOCK