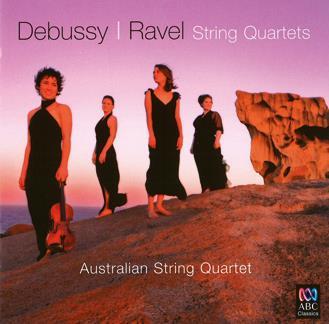 The Strad Issue: January 2009
Musicians: Australian Quartet
Composer: Debussy, Ravel
The pairing of the Debussy and Ravel string quartets is a conventional one; nonetheless, conventions are sometimes well founded and few could doubt the propriety of this famous match.
The Australian Quartet was formed in 1985, but its current line-up dates from 2006. Sophie Rowell, its leader, was awarded second prize at the International Mozart Competition in Salzburg in 1999 and the other members have equally impressive credentials.
This is youthful playing, an approach that confers advantages and shortcomings in equal measure. At its best it has an engaging enthusiasm, delivering intensity in the more passionate passages of both quartets and especially effective in the Ravel finale. Equally, the more conspicuously reflective music in both quartets is well shaped; the Ravel slow movement is especially beautiful. There are problems, however. Debussy's limpid textures are at times unconvincingly rendered – the second movement can sound rather confused, the third rather too hectic. It all depends on how you see this work, but for me the Debussy needs a more subtle approach to colour and texture. The Ravel comes off rather better with some pleasingly courageous tempo contrasts in the first movement but, again, it is the faster music that sounds best.
The musicians' readings may lack subtlety in places, but their playing is compelling. They are sadly not well served by the recording – the Debussy opening is unclear and the second movement picks up too much noise, while the second movement of the Ravel has myriad extraneous bangs and rattles. Nonetheless, this should not detract unduly from an enjoyable disc.
David Milsom