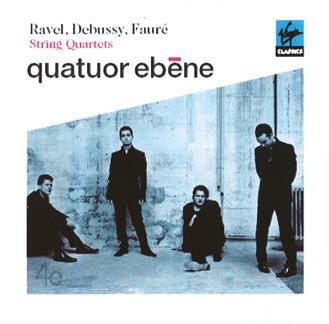 The Strad Issue: January 2008
Musicians: Ebène Quartet
Composer: Debussy, Fauré, Ravel
What makes a quartet ensemble sound 'French'? In the case of the Ebène Quartet, I think it is a refusal to play in too clammy a fashion. The players never sound dry on this very full disc, in fact they sound wonderful, but they manage to suggest the voluptuous without actually playing voluptuously. Like all the best French groups, in fact.
Unfortunately their programme, which starts well, goes downhill after the Debussy, where my only criticism is that some of the phrasing in the opening movement is a little square. Tempos are well chosen and the players observe a good dynamic range, with lovely pianissimos. The viola is especially outstanding. I like the dramatic approach to the Scherzo, which ends beautifully, as does the slow movement. Rhythm is excellent throughout.
The Fauré is a difficult work and I do not think these players have yet cracked its secrets. In particular, the first movement lacks any real pulse and the central slow movement falls down at transitions, despite some fine playing. The finale seems rather nervy. I am still waiting to hear something better than the 1928 Krettly recording (EMI).
The thoughtful, subtle Ravel interpretation is within sight of most of its goals, but the first movement is too slow – the composer wanted it to take around 7:30, not 8:40. Having noted a nice clear cello from Raphaël Merlin in the Debussy, I am disappointed to find it under-recorded here. The players seem to recede in the sound picture when they are playing softly.
TULLY POTTER