A glamorous violin virtuosa, a hidden masterpiece, a ouija board, Nazis, Ravel's Tzigane. It's not hard to see why author Jessica Duchen was attracted to the story of Jelly D'Arányi. As her novel becomes a UK touring concert, she writes about the strange facts behind the fiction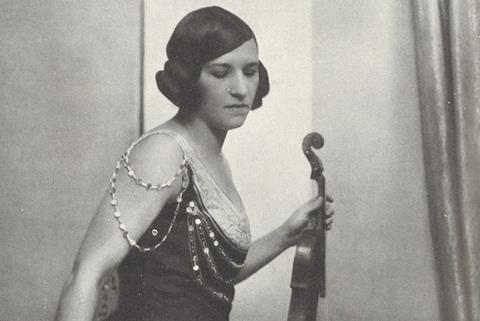 I've been stumbling across mentions of the great Hungarian violinist Jelly d'Arányi almost my whole life. It was only in 2011, though, that I first imagined she might become the heroine of a novel.
She always was a heroine, of course. She inspired some of the greatest violin music of the first third of the 20th century. Born in Budapest 1893, she died in Florence in 1966, but spent most of her life in Britain. Joseph Joachim was her great-uncle and Jenő Hubay her teacher. Bartók fell in love with her. The elderly Elgar adored her. Ravel's virtuoso showpiece Tzigane is dedicated to her. She worked with Pablo Casals, Dame Myra Hess and Sir Adrian Boult, among other musicians also as legendary as she was. A painting of her by Charles Geoffroy-Dechaume hangs in the National Portrait Gallery.
She sidles into view, too, in accounts of the company she kept: the Bloomsbury set, the aristocracy, diplomatic circles and intellectual ones, even though she scarcely went to school. She her sisters Adila (also a magnificent violinist, known by her married name, Fachiri) and Hortense (a pianist who gave up performing upon her marriage) were everyone's 'darling little Hungarians' when they settled in the UK several years before the first world war.
But in 1933 things turned bizarre. That spring Jelly claimed to have received a message via a ouija board purporting to be from the spirit of Robert Schumann, asking her to find and play a long-unperformed violin concerto of his. She had never heard of it before. Her enquiries proved it was real, but suppressed. After Schumann's death in an asylum, his wife, Clara, aided and abetted by Joachim and Brahms, left the piece unpublished, believing it betrayed traces of her late husband's mental illness. Adila Fachiri's friend, Baron Erik Palmstierna – the Swedish Minister in London and an avid spiritualist – went to Berlin and hunted down the manuscript in the Prussian State Library.
Schumann's surviving daughter, Eugenie, was aghast at this and insisted the work must not be published. There seemed little that Jelly could do. But now the work's existence was in the open, and as the Third Reich tightened its grip on Germany and banned the music of Jewish composers, the Ministry of Propaganda devised a special plan: overriding Eugenie's anger, they wished to launch the Schumann as a great German concerto by a great German ('Aryan') composer, to replace the banned Mendelssohn in the people's affections. Meanwhile the publisher, Schott's, sent a photostat to the starry young Yehudi Menuhin, who fell in love with it and wanted to give the first modern performance himself. Jelly, having started her quest with the most innocent of intentions, was sucked into a race to the premiere with Menuhin on the one hand and, on the other, Joseph Goebbels.
And now: mayhem. The news of the 'spirits' broke to a derisive public in September 1937 in a new book by Palmstierna based on messages that Adila had channeled via Ouija board. Jelly had to disentangle herself from a controversy that wouldn't have been out of place in the fiercest Twitter storms of 80 years later.
She eventually gave the UK premiere of the Schumann Violin Concerto on 16 February 1938 – after both the Nazi's candidate Georg Kulenkampff in Berlin and Menuhin in the US – but neither she nor her world would ever be the same again.
The 1930s were tipping Europe from peace towards war. Schumann had written the concerto just a few months before suffering a mental breakdown and attempted suicide. And d'Arányi's glittering career was starting to slide as a succession of injuries and mental stresses assaulted her. In this strange confluence, our heroine, her target and her times were poised at the cliff edge together. And I don't need to spell out the relevance of this to our own day.
D'Arányi's story therefore cried out for a novel, yet the story needs music as well as words. I've joined forces with the fabulous duo of violinist David Le Page and pianist Viv McLean to create a narrated 'concert of the novel', filled with pieces connected to d'Arányi. It includes Tzigane, as well as part of the Schumann concerto; a piece by her teacher, Hubay; a Brahms Hungarian Dance arranged by her great-uncle, Joachim; and a short piece by the Australian composer Frederick Septimus Kelly, with whom Jelly was in love before he was killed at the Battle of the Somme.
The narrated format is ideal for many different audiences because it is a hundred per cent accessible, the music forming an integral part of the storytelling. And the extraordinary tale – 'the strangest detective story in the history of music' – has the benefit of being true. I certainly couldn't have made it up.
Ghost Variations, the concert, is at the Crazy Coqs at Brasserie Zédel, London (23 Oct); the Artrix Arts Centre, Bromsgrove (3 Nov); Burgh House, Hampstead (19 Nov); Lampeter House, Pembrokeshire (2 Jan) and, in shorter form, the Leicester Lunchtime Classical Concerts series at Leicester Art Gallery (22 Feb).