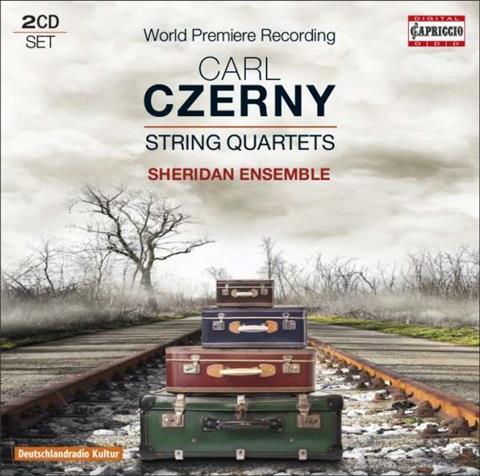 THE STRAD RECOMMENDS
The Strad Issue: September 2015
Description: Rediscovered quartets by a famed follower of Beethoven
Musicians: Sheridan Ensemble
Composer: Czerny
That Beethoven's pupil Carl Czerny (1791–1857) was a consummate master of the string quartet genre is hardly astonishing. Some readers might be surprised, however, that the recent rediscovery of the D minor and E minor quartets has been championed by a 'modern instrument' group. Yet it is perhaps symbolic of the musical universality of these works that they translate so effectively to such performance – as Beethoven's own quartets do, of course – and the results here are certainly compelling.
What we have, then, are four highly evocative works, the heroic nature of which bears Beethoven's influence. Outer movements in all cases are perhaps the most memorable – such as the clean-lined but harmonically inventive first movement of the D minor work or the forceful finale of the E minor quartet – while the scherzos can be equally stirring (notwithstanding †¨a slightly immaterial trio in the A minor quartet). This double-disc set is recorded with beautiful poise, both musically and in terms of recording quality, and the Sheridan Ensemble, famed for its eclectic tastes, manages to apply modern stylistic ideals with subtlety †¨and sensitivity.
Witness, for example, the tonal clarity of the E minor's slow movement, with sonority modulated more by the bow than by any over-reliance on vibrato, and the warm yet articulate cello staccatos in the D major's first movement. The consistency of the sound across the works and across the members of the quartet is admirable. I enjoyed these discs greatly – truly a significant musical discovery, conveyed in †¨an ardent and committed way.
WIN a copy of the Sheridan Ensemble's new Czerny album
DAVID MILSOM