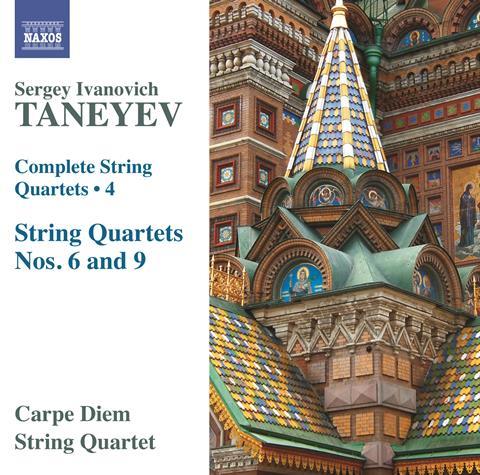 The Strad Issue: March 2016
Description: The Carpe Diem's Taneyev quartet survey continues in fine style
Musicians: Carpe Diem Quartet
Composer: Taneyev
Taneyev's Ninth String Quartet, written considerably earlier than the Sixth, in 1883, is an attractive, open-hearted work. The opening Allegro moderato has a captivating lyrical sweep and skipping staccato passages which the Carpe Diem Quartet plays with neat lightness of touch.
The Andante moves forward, the textures always busy, its melodies lovingly played, with beguiling touches of portamento. An energetic Slavonic scherzo follows, mercurial and restless, played with crisp rhythms and an undercurrent of drama, surrounding a lush Trio. Tchaikovsky – Taneyev's teacher and trusted friend – reckoned this to be the best movement; he was less impressed by the final Allegro giocoso, its good humour interspersed by moments of severity and stuttering uncertainty.
The Sixth Quartet, written in 1905, is a far more complex work in its emotional range, structure, harmonic language and compositional ingenuity. The Carpe Diem players have the measure of all these. They weave the constant variety of the first movement into a tight and convincing narrative, and there is real bite in the severe, passionate slow movement to match its beauty. Their consistently exemplary ensemble playing is heard to good effect both here, as semiquaver phrases interweave and pass between instruments, and in the scampering triplets of the third-movement Giga. The recorded sound is warm and clear.
Tim Homfray