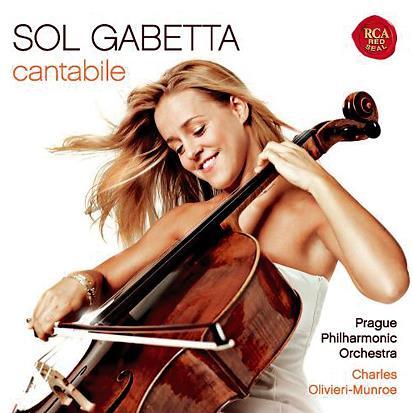 The Strad Issue: January 2009
Musicians: Sol Gabetta (cello) Mihaela Ursuleasa (piano)* Prague Philharmonic Orchestra/Charles Olivieri-Munroe
Composer: Gounod, Offenbach, Bizet, Delibes, Tchaikovsky, Thomas, Canteloube, Hahn, Faure, Lopez & Rossini*
'She looks like a model,' was my nine-year-old son's immediate comment on seeing the cover picture of Argentinian cellist Sol Gabetta. Stunning good looks can only help you in today's music industry, but when paired with lightweight repertoire and Pseuds Corner-type booklet notes that say practically nothing of relevance to the music, they might not lead the listener to expect profound insights. Just as well she's brought out a Shostakovich disc to counter this one (see last month).
Gabetta, 27, a pupil of Ivan Monighetti and David Geringas, has 'chosen a selection of cantabile opera arias and songs, and had them arranged for her instrument', the cover tells us. (The transcriptions are by a certain Manfred Grafe, one discovers after close examination of the booklet.) Fortunately her musicianship can be relied upon and she plays his skilful arrangements, almost entirely in lilting triple or compound time, stylishly and conveys her enjoyment with playful touches of rubato, even more evident in the bonus track with piano, Rossini's Figaro aria.
Délibes's Les filles de cadix is particularly charming, with its long, sighing glissandos down to cheeky trills and neat military col legno rhythms, while the delightful arrangement of the 'Seguedille' from Bizet's Carmen could easily become standard repertoire.
Gabetta resists the temptation to use a blanket singing tone, delicately shading the sounds of her 1759 Guadagnini and employing tasteful portamentos. In a few tracks, such as Hahn's À Chloris, with the cello in the middle of its range, the soloist is rather lost amid the orchestra, but in general this is a successful venture, with lovely orchestral colours highlighted by the fresh and immediate recorded sound.


JANET BANKS