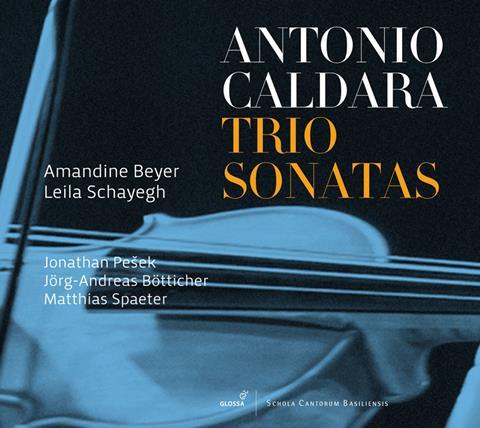 The Strad Issue: October 2015
Description: Stylish and perceptively played trio sonatas from Switzerland
Musicians: Amandine Beyer, Leila Schayegh (violins) Jonathan Pesek (cello) Jörg-Andreas Bötticher (harpsichord/organ) Matthias Spaeter (liuto attiorbato)
Composer: Caldara
This selection from the opp.1 and 2 trio sonatas by Antonio Caldara (c.1670–1736) exemplifies his personal yet Corelli-influenced approach, mixing the expressive and the unpredictable with flowing passages of finely wrought detail.It is performed with exemplary if unsensational style by violinists Amandine Beyer and Leila Schayegh and their colleagues, most of whom studied at the Schola Cantorum Basiliensis and/or currently teach there.
That Beyer and Schayegh are well-matched partners is especially shown in their striking interplay in the final Allegro of op.1 no.12. They dispatch the Allemanda and Giga of op.2 no.11 with a virtuosity and panache that is inspiring, perform the more reflective slow movements such as the Grave of op.1 no.6 expressively, play throughout with effectively contrasted dynamics and copious stylish embellishments, and capture well the characters of the op.2 sonatas' various dance movements. Their pièce de résistance is the Chiacona op.2 no.12, which is perceptively interpreted, adroitly characterised and perfectly scaled.
Changes are imaginatively rung in the continuo department, deploying combinations of organ, harpsichord, cello and liuto attiorbato (a lute rebuilt into a theorbo-like instrument) according to the musical demands; and cellist Jonathan Pesek relishes his independence in various concertante passages in the op.1 sonatas, creating a four-part texture. All performers benefit from a well-balanced, vivid yet spacious and full recording.
ROBIN STOWELL