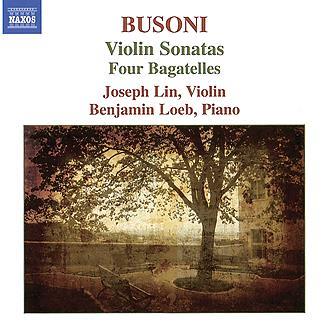 The Strad Issue: January 2007
Musicians: Joseph Lin (violin) Benjamin Loeb (piano)
Composer: Busoni: Violin Sonatas nos.1 & 2, Four Bagatelles op.28
Ferruccio Busoni's two violin sonatas are both early works. The First Sonata (1890), a student piece that won the 23-year-old composer the Rubinstein Prize in St Petersburg, is steeped in Brahmsian Romanticism (Brahms had suggested Busoni study in Leipzig). In its opening Allegro, Joseph Lin strikes an admirable balance between bravura display and restraint, paving the way for an unusually sustained middle movement, in which the thoughtful Benjamin Loeb supplies a beautifully calm, perfectly judged chordal underlay; indeed, throughout this disc Loeb's intelligent, lucid articulation is greatly to be admired. The excitable finale, balancing feverish outburst with confidential interludes, comes off particularly well.
Busoni revised his Second Sonata (1898) for its Helsinki premiere in 1900. Instead of a bravura start we have a profound, slow first movement, harmonically questing and not without hints of Brahms. To prise the very best out of Busoni's quite tricky melodic meanderings arguably requires an even more remarkable feat of tuning. But the 'breathless tarantella' of the central presto is thrilling, and the final variations on a Bach theme, with some exquisite violin cantilena and interspersed moments of delicate repose, receives a masterly treatment, sustained throughout its 20-minute span.
Most teasing of all is the earliest work, Four Bagatelles (1888): bewitching pairings of open and stopped strings, a whiff of Tchaikovsky- like orientalism, a hilarious mock-Strauss waltz and a lumpen 'Cossack ride' reveal the wit and versatility of composer and performers alike. The Naxos sound is beautifully judged.

RODERIC DUNNETT