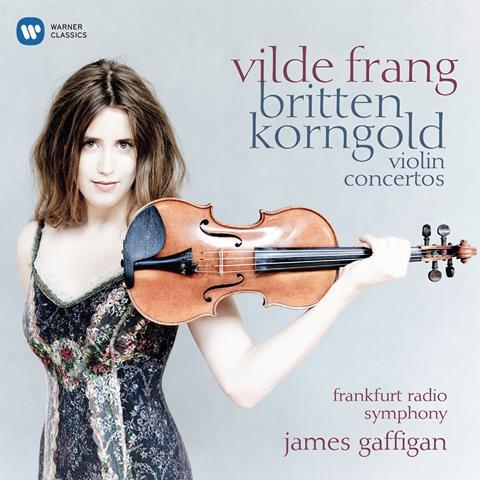 THE STRAD RECOMMENDS
The Strad Issue: May 2016
Description: Frang approaches an odd couple of concertos with lyricism and drama
Musicians: Vilde Frang (violin) Frankfurt Radio Symphony Orchestra/James Gaffigan
Composer: Britten; Korngold
In the booklet notes to this release, the Norwegian violinist Vilde Frang describes Britten's Violin Concerto as 'one of the greatest dramas in the violin repertoire', and that's certainly how she approaches it. Though she imbues it with searing passion, the expression never seems exaggerated. She reveals the work's purposeful, steely form yet produces sounds that are as beguiling as her technique is astonishing.
Both she and the Frankfurt Radio Symphony Orchestra under James Gaffigan (see Session Report, April 2016) have the measure of the first movement's unhurried but insidious ostinato. The macabre touches to the second movement are keenly underlined, and by the time we get to the end of the final Passacaglia, those clashing semitones leave us utterly wrung out. Frang also makes perfect sense of the work's sometimes overwrought connections to Romantic violin concerto archetypes. There has been no shortage of champions of this work in recent years but this surely deserves a place at the top of the list.
Frang's view of the Korngold Concerto is no less persuasive. She may not choose the fatness of sound that others have traditionally opted for but she brings an effortless lyricism and an unreal, shining sweetness of tone, no matter how high she soars. Gaffigan and the Frankfurt orchestra are ideal partners; coupled with a beautifully balanced recording, this all makes for a highly covetable disc.
Edward Bhesania